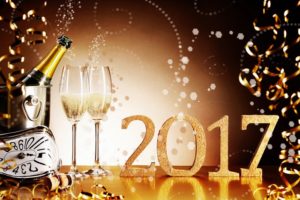 To another rockin' year!
by Pam Baumgardner
VenturaRocks.com
Here we are ushering in another year. It's when we take time to reflect back and it's when we take time to look forward. If you know me at all, then you know that I'm a "glass-half-full" sort of gal. So, I'm looking forward to and postulating a year of growth, a year of success, a year of new music and a year of harmony for all.
Before we hit the ground running in 2017, we have to send off 2016 with a bang!  So here we go with New Year's Eve parties in and around Ventura.  You'll want to do your own due diligence with reservations and keep in mind that a number of venues who typically don't, will be charging a cover for the night; most everyone will have specials and party favors. And if I may suggest, be sure to have a designated driver or a well-thought out exit plan on getting home safe.
Amigos will feature the pop 80's band Wax Off; Café Fiore has two bands in the front room, Big Adventure and Instone with Colette Lovejoy in the Treehouse; Chinaland in Oxnard has the Grooveline featuring Dora Sanchez and guest DJ Frank Ramirez; the Copa Cubana in the harbor will have Artis Ford; The Crown Plaza has their popular annual event with DJ Bruce Barrios; Discovery features One More Time, a Daft Punk tribute band; Gigi's has a Karaoke countdown; there will be a masquerade party at Grapes and Hops with the Shawn Jones trio; the Greek Mediterranean will have a Great Gatsby theme party with a DJ; The Hong Kong Inn has The Bomb; The Hut in Ojai has Wishbone with special guest Alastair Greene; there's definitely no cover at the Keynote Lounge with the Black Canyon Band; O'Leary's has a Roaring 20's party with Live Band Karaoke; Paddy's has DJs with two dance floors all night; Rookees will also feature a masquerade theme with Wiz Kid at the helm; Saloon BBQ Co has DJ Acer; Brain Faith & Friends will be at the Sportsman in Camarillo. The Tavern has DJ Steeze Steve; and former LA Guns singer, Paul Mars Black will be at the Wine Rack.
And finally, if you'll be ringing in the New Year anywhere near a television, then be sure to tune in to Dick Clark's New Year's Rockin' Eve 2017 with Ryan Seacrest. I realize that's an odd recommendation from me, but you won't want to miss seeing the newly Grammy nominated Mike Posner Band with local artist, Jacob Scesney on saxophone in his band.  I can't even express how proud I am of Jacob, he's truly living the dream!
Do you have any music-related news or upcoming shows you want help publicizing? Please send all information short or long to Pa[email protected], and for updated music listings daily, go to www.VenturaRocks.com.