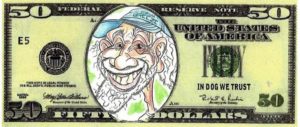 •  Happy Chanukah (starts Dec. 24), Merry Christmas and Happy New Year to all of our wonderful Breeze readers. The years go by much too quickly.
•  Wishing Carl Morehouse, first elected to the Ventura City Council in 1999, all the best in his "retirement" from the City Council. Maybe now he will have time to pursue his musical career.
And, all the best to Matt LaVere who will now find out the incredible amount of time that he will be spending serving on the City Council. Good thing members earn $600 per month to make it all worthwhile.
•  How wonderful that the so called "Sonderman-Ring" project (see article in this issue) has finally broken ground (only took 16 years). This development be great for the Harbor and even for those living in the mobile home community right across the street. It will cut off some of their views but will have a community park, a great promenade for walking to the water and commercial space that might make some of their shopping easier.
I congratulate the developers for sticking with it. A funny aspect of it is that Brian Brennan reviewed it as a City Councilmember, as a member of the coastal commission and a member of the port district. He must have gotten very tired of looking at the project.
•  I wonder if the people shouting USA, USA, USA will be shouting that next year when their iPhone8's costs $1,500?
•  To encourage second units being built on residential properties, the state has loosened restrictions to ease the affordable-housing crisis.
Under new rules, the review process is meant to be faster and less difficult and will be certainly cheaper because large city hook-up fees will not be allowed. The city can't, in most cases, charge a water or sewer connection fee or require a new connection. This will result in huge changes to the building of second units on residential properties.
The new state regulations are set to go into effect Jan. 1, and cities are trying to figure out exactly how it will affect existing local ordinances and what changes will need to be made. Most of those ordinances are going to be eliminated or be revised.
What the new state regulations will mean exactly in Ventura will be discussed in great detail by our city attorney, planning staff and city council.
The new law allows detached units to be up to 1,200 sq. feet. Ventura currently allows 750 sq. feet. Units attached to existing residences can be up to 50 percent of the residence's living area, compared to the maximum 30 percent set by the city now.
Recently, many Ventura residents (especially in the Pierpont community with their small driving lanes) have been unhappy with the growth of short-term vacation rentals, arguing they have resulted in increased traffic, noise and strangers into their neighborhood.
Some Venturans feel that these type of rentals should be banned altogether in residential zones because they are actually commercial uses. Some rental property owners claim that they carefully monitor the tenants and maintain their properties in a clean condition and that the visitors contribute to the city's economy. In some cases the rent allows owners to remain in their homes.
If any of you are thinking of adding a second unit, I'd be happy to help with any  questions and concerns (I'll put on my retired architect's hat).
•  Great to report that new Federal survey data shows that teen drug and alcohol use has fallen to levels not seen since the height of the drug war in the 1990s.
The Monitoring the Future survey of about 50,000 high school students found that "considerably fewer teens reported using any illicit drug other than marijuana in the prior 12 months — 5 percent, 10 percent and 14 percent in grades 8, 10 and 12, respectively — than at any time since 1991."
And the use of electronic cigarettes (vaping) has also declined for the first time since researchers began tracking the practice in 2011.
Marijuana use has been another area of concern with the move by numerous states to legalize the recreational use of the drug. But a recent survey shows that changing attitudes toward marijuana appear to have little effect on teens' inclinations to use the drug. The marijuana use trends have proved surprising to authorities who predicted that legalization would lead to greater teen acceptance of marijuana use, and more teens using it themselves.
All good news. I hope that the trends continue. Perhaps when cigarettes are $8 per pack (when the new taxes are added) even fewer will be smoking.
•  A Saudi woman was going out for breakfast when she decided to make a social statement. In violation of the country's moral codes, she reportedly stepped out in public wearing a multicolored dress, a black jacket and ankle boots without wearing a hijab or abaya, a loose-fitting garment.
It resulted in drawing death threats and demands to imprison or even execute the woman. Police in the country's capital of Riyadh said they had arrested the woman following their duty to monitor "violations of general morals." Hard to even comprehend that kind of thinking, at least it is for me.