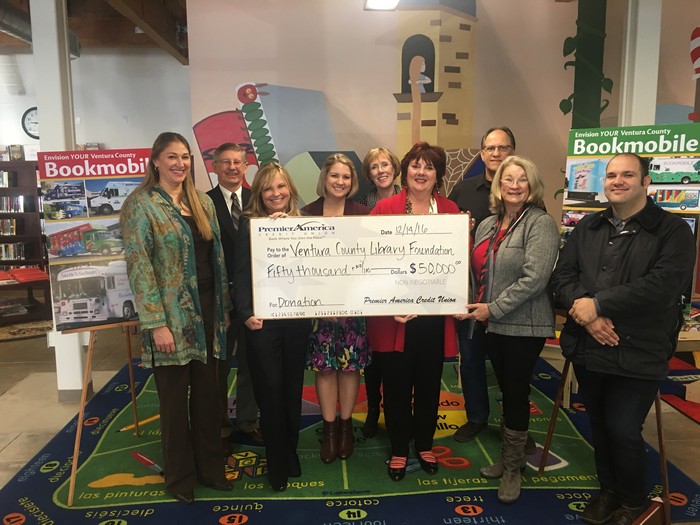 On Dec. 14 Premier America Credit Union presented a $50,000 check to the Ventura County Library Foundation (VCLF) at the Saticoy branch located in Ventura.
Premier America, the Founding and a primary sponsor, is pleased to kick-off the fundraising initiative for the bookmobile, which will provide mobile library service to approximately 70 communities in two-week rotations throughout Ventura County.
Kathy Long, County of Ventura Supervisor, Third District along with VCLF Board members, Nancy Schram, Terry Mrvichin, Tom Robinson, Marty Robinson and the Saticoy Librarian, Derek Stalcup accepted the donation on behalf of the VCLF.
Sandy Berg, Secretary for VCLF said, "This bookmobile will reach all residents of Ventura County no matter how far they live from a branch or what barriers stand in the way of their use of a library.  And, when they enter the bookmobile they will discover a world of not only books but technology including computers and access to all types of STEM learning.  We are so thrilled with the generosity of Premier America in providing us with this gift that will help make this dream come true".
County Library Foundation supports the Ventura County Library with gifts toward the bookmobile, books and other materials and support of literacy services.  Donations can be mailed to The Ventura County Library Foundation, 5600 Everglades St., Ventura, CA 93003.
"Premier America is excited to partner with the Ventura County Library Foundation to further support the local community by bringing library services directly to those who are currently without access" said Christina Madaras, Director, Community Development & Corporate Citizenship. "We can't wait for the bookmobile to launch and see barrier-free literacy in action!"
Founded in 1957 Premier America is one of the nation's largest credit unions, with nearly 100,000 members and $2.3 billion in assets. With 20 branches, 9 of them in Ventura County, Premier America provides financial services to those who live, work, worship and attend school in: Camarillo, Oxnard, Simi Valley, Thousand Oaks, Ventura, Westlake Village, Los Angeles County and areas in Houston. To learn more about Premier America, visit PremierAmerica.com.