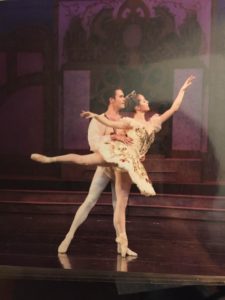 Celebrate the holiday season with Footworks Youth Ballet's variation of The Nutcracker, featuring live music performed by the Footworks Community Orchestra and singers from the Carpe Diem Chorus.
In this version of the holiday classic, the wave of a wand transforms a holiday party into the world of magic to include a Nutcracker Doll, a Sugar Plum Fairy Doll, and dancing Columbine, Pierrot and Harlequin Dolls—as well as dancing Bon Bons, Candy Canes, and an appearance by Mother Ginger and her Petite Pollichinelles. This year's production also features a King and Queen who reign over the Land of the Sweets.
Founded by Kirsten Oakley, Footworks Youth Ballet was created with the goal of providing a place for young people to thrive and grow through the joy of dance as they learn the art and discipline of classical ballet. Productions are unusual in that they allow senior dancers the experience of partnering with professional guest artists, a rare opportunity for young dancers. Guest artists for this season include Christopher Bonomo as Herr Drosselmeyer, Adrian Hoffman as the Nutcracker Prince Doll, Kenny Borchard as King of the Land of the Sweets and Hai Cohen in the famous Arabian divertissement. Dancers from the youth company are also cast for the principal roles, including the Sugar Plum Fairy, the Snow Queen and the Queen of the Land of the Sweets.
For each ballet production, Footworks Youth Ballet hosts a sold-out performance for over 3,000 school-aged children to see the ballet. Most of the tickets for the children are provided at the reduced fee of $5.00 each, and many of the students qualify for free tickets.
The Nutcracker, presented by Footworks Youth Ballet
Sat. Dec 10, 2.00 pm
Sun. Dec 11, 2.00 pm
Oxnard Performing Arts Center
Tickets $19, $24, $29
Call 486.2424 to buy tickets, or order online at footworksyouthballet.org