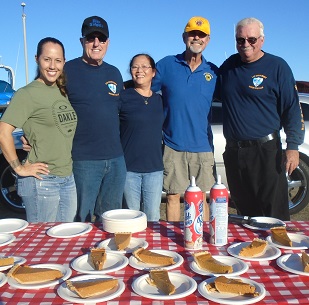 Lions Clubs International's motto "We Serve" was definitely exemplified by members of the Ventura Downtown Lions Club. Following a full day of deep-sea fishing sponsored by Anglers Anonymous Ventura Coast, Ventura Downtown Lions Club members Kathy Shurtleff, Ken Cozzens, Adam Casillas, Rick Robinett, Tim Brown, Mike Vaseth, Ed Rogoff, Joel Crawley, Charlie Burnham and Robin Westmiller served more than 150 veterans from every branch of military service.
Lions Bar-B-Que Chair Don Fromberg arrived early to organize the team who prepared and grilled several pounds of chicken, tri-tip and garlic bread. The Lions also served baked beans, coleslaw and pumpkin pie.
The Ventura Downtown Lions Club meets the first three Thursdays of every month for lunch at Noon at The Derby Club , Ventura County Fairgrounds. For more information, visit www.venturalions.org or phone 655-5595.
For information on Anglers Anonymous Ventura Coast, visit their website anglersanonymousvc.weebly.com.