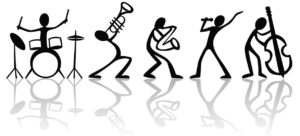 Ebbs and flows of our music scene
by Pam Baumgardner
VenturaRocks.com
Nobody likes change, especially when it involves the closing of another venue which offered live music.  I'll admit to my disappointment; especially when walking by Saturday night and not hearing upbeat live music from W20 at the Watermark.  I wanted to berate Hartley for letting us down, but you know, he and Kathy sort of deserve less stress in their lives.  It would have made the blow easier knowing the new tenants would carry on with live music, but alas, it doesn't appear they will. I'm trusting the other venues in town to pick up the slack and help out the bands scrambling to find places to play. I always say there are ebbs and flows with Ventura's music scene. Guess which one we're in.
Doing his best to pick up the slack of course is Mike Toler just around the corner from W20 at Amigos. He's got a nice line up of music scheduled including Mi6 on Sunday October 23d. He told me that he's looking forward to the return of his friend Wes Nile and Mi6. He said, "The last time we had them at Amigos they really brought it with something I had not seen before. Imagine listening to a DJ but the DJ was being replaced by a band, and unless you were in front of the band, you wouldn't know the difference!"
I'm glad I was able to witness the return of Cirith Ungol at the Ventura Theater during the Frost and Fire II fest. The City of Ventura was scheduled to recognize their reuniting after 25 years at the City Council meeting on Monday the 10th.  I've heard European dates will be coming up for them in 2017.
SteampunkFest will be held at the Heritage Square in Oxnard on October 15th and 16th. The event is being touted as kid friendly with wacky events all day. Some of the bands scheduled include 50 Sticks of Dynamite, Abby and the Myth, Cirque Des Betes, and of course the Velveteen Band. For more information and ticket prices, check out www.OxnardSteamPunkFest.com.
I'm hearing good things about the band, Big Jesus, an alt-rock band out of Atlanta, GA, who will be coming to town this month. They've been getting a lot of good coverage for their latest release; Rolling Stone Magazine praised them for "reviving 90's alternative" which happens to my favorite era of music.  Actually the entire week at the Ventura Theater will be rockin' with Yellowcard on the 19th, Garbage on the 20th, Ben Folds on the 21st, Common Kings on the 22nd and wrapping up the week will be Big Jesus opening for Good Charlotte on Sunday the 23rd.
And finally, happy anniversary (number 9)to Sheldon and the staff of the Ventura Breeze.  I would like to personally thank Sheldon for supporting Ventura's music scene by devoting a full page to its coverage.
Do you have any music related news or upcoming shows you want help publicizing? Send all information short or long to [email protected], and for updated music listings daily, go to www.VenturaRocks.com.