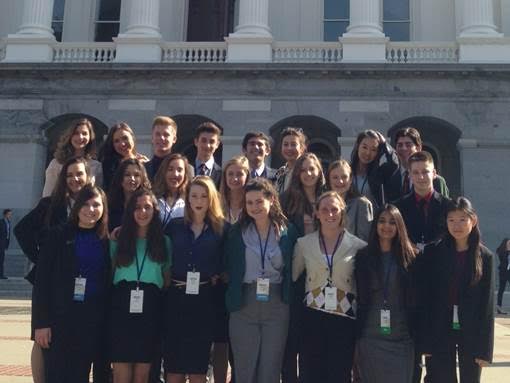 High school students interested in a six-month hands-on experience in democracy are encouraged to apply to the Ventura Family YMCA Youth and Government program. Registration closes on Sept. 30.
Participants experience first-hand how state government works; fine-tune public speaking, conflict resolution and debating skills; become a leader in the democratic process and increase civic literacy awareness.  The program also provides an opportunity to have fun with friends during weekly meetings, group building activities and road trips to Fresno and Sacramento.
As a delegation, youth create bills about pertinent issues, research and practice court cases, develop public speaking and networking skills, and attend three annual Model Legislature & Court conferences.
Teens meet weekly, each Monday at 6:00 p.m., at the YMCA to discuss and debate issues that affect citizens of their state and to propose legislation. The program culminates with teens serving as delegates at their state conference, debating bills on the floor of the legislature with 3,000 fellow students from 45 California High Schools in the State Capital in Sacramento.
To support this program or to learn how to participate in the 2016-2017 delegation, please contact Julie O'Brien at 642-2131 ext. 23 or by email at julie.obrien@ciymca.org. Interested students do not have to be members of the YMCA to join.
Like all Y programs, Youth and Government is open to all with financial assistance available. The Youth & Government program is offered at the Santa Barbara, Lompoc, Stuart C. Gildred, and Ventura branches of the Channel Islands YMCA.
California YMCA Youth & Government's Model Legislature & Court (MLC) has been the state's premier youth leadership and civic development program since 1948. This program provides them with the opportunity to experience government first-hand through a unique "youth-run, youth-led" model. Visit the California YMCA Youth & Government website for more information.