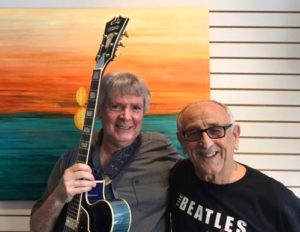 Ivor Davis with Malibu singer Brooke Halpin are presenting a  "rehearsal" show at the Pierpont Racquet Club (500 Sanjon)free of charge on Sunday Oct. 2nd at 2 pm.
It will be  the tune up for "the Big One" a week later  at the legendary Crest Westwood Theater on Sunday October 9th–which is Lennon's birthday (he would have been 76)
The big fundraiser is for Pancreatic Cancer–with proceeds going to battle the disease that claimed the life of Ivor's lovely wife Sally and now Sandra Laby.
Tribute to a Working Class Hero, John Lennon
Sunday October 9th, at 1:30 p.m.
The Crest Westwood Theater
1262 Westwood Blvd
Tickets are $15 for students, $20 general seating, and $25 VIP seating.