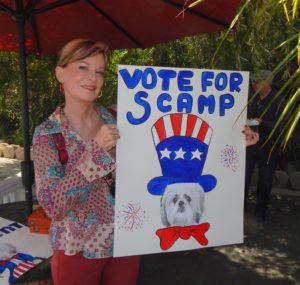 •  I want to thank all of you that attended my presidential rally and who are supporting me for president. It was pawsitively wonderful. A great turn-out of young and old and many honks from people driving by.
A special thanks to Gloria owner of a Secret Garden (981 E. Main) for hosting the event and to my friend Lyn Fairly and Ana Baker for drawing my posters.
The bad part is that the puparazzi won't leave me alone so I don't have any privacy. The drones follow me night and day.
•  There will be an exclusive fundraiser event like no other in Ventura County to raise money for low income pet owners..
The 3rd annual Halloween @ Bard Mansion with a formal dinner, magic, psychics, séances (I don't know what they are), ghost tours and silent auction!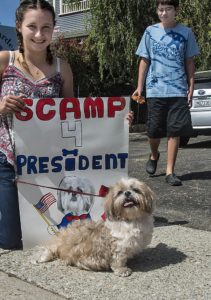 At the  historic Bard Mansion on the Port Hueneme Navy Base from 6 pm – 11 pm on both Oct. 28 & 29.
Hosted by the Herman Bennett Foundation & Save-A-Life Thrift Stores to help control the local animal population and prevent the needless death of cats and dogs. Proceeds go towards their voucher programs that cover 100% of procedure cost for low income pet owners to spay/neuter their cat or dog. They also provide funding for the spay/neuter of feral cats.
Tickets are available by phone at 445-7171. Only 100 tickets offered each night!  Your contribution is tax deductible! Visit hermanbennettfoundation.org for more information.
•  Mended Sisters MC presents the Hogs for Dogs Poker Run to benefit Ventura County Animal Services (VCAS) on Saturday, October 15 from 9am-4pm.
9am – Arrive at Ventura Harley-Davidson, 1326 Del Norte Rd., Camarillo
11am – Non-Riders meet at the finish line, Ventura County Animal Services
600 Aviation Drive, Camarillo, CA 93010
1/2 off adoption fees for dogs and cats 8 months and up!
There will be dog, cat and bunny play areas, face painting, jolly jump, food trucks, music and much more. Riders $25 . Call Jann 818-298-8488 for more information.