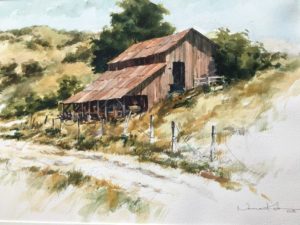 The first "Arts & Eats" will be held in the 400 and 500 blocks of downtown Ventura on Saturday, September 17 from 6 – 8pm. Three galleries will hold art receptions, while restaurants and shops will offer complimentary tastes.
"Arts & Eats invites people to stroll and enjoy the uniqueness of our downtown.  Guests will enjoy exceptional art and photography, while they nibble their way along Main Street" says Debbie Fox, owner of Fox Fine Jewelry, one of the event galleries. The event is free.
Fox Fine Jewelry, 6 – 8:30
Norman Kirk will display his art in the show "Celebrating Norman Kirk" at Fox Fine Jewelry from September 15 – November 13 with an Art Reception on September 17 from 6 – 8:30pm during "Arts&Eats". This is Kirk's first solo show in over five years, and at 92 years old, he says it is probably his last. During the Art Reception there will be art supplies and scrapbook paper. Guests are encouraged to bring photos and stories, and sign, write, and draw on the pages.
Very Ventura Gift Shop & Gallery Historic Photography during Arts & Eats
Plein Air Competition,  Sept. 17 – Oct. 24
Very Ventura Gift Shop & Gallery will present "Ventura Views: The Historical Photography of Walt and Steve Dibblee" and "Preshow for the ArtWalk Plein Air Invitational"  Photography: For over 65 years Walt and son, Steve Dibblee, have been providing high quality photography for Ventura County. The show will be on view for Arts & Eats only.
West coast artists compete in a Plein Air Invitational Event during ArtWalk 2016.  Sample paintings will be on display for Arts & Eats, with the full exhibit beginning soon after. The show ends October 24. Very Ventura Gift Shop & Gallery is located at 540 E. Main Street.
Latitudes Fine Art Gallery presents "The Endless Summer Collection" until September 30, with an Art Opening on September 17 from 6 – 8. The photographs are a celebration of images that capture vivid sunsets, surfer lined shores, and barefoot afternoons at the beach. Latitudes Fine Art is located at 401 E. Main Street.