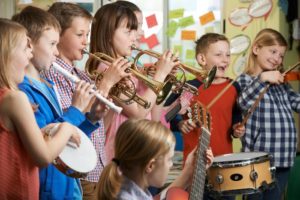 Help for budding artists
by Pam Baumgardner
VenturaRocks.com
Big help from Big Bad Voodoo Daddy for our local schools! That's $42,500 in funding to Ventura Unified School District earmarked to enhance existing visual and performing arts programs. The funds were made possible through the BBVD concert last April celebrating the City of Ventura's 150th anniversary.  I'm looking forward to seeing new upcoming artist having the chance to flourish as a result of the band's generosity.
Local singer, Eric Harrington, recently played at Squashed Grapes to a packed house. Few knew there was a chance that drummer Vinnie Colaiuta might show up, and show up he did for the final songs of the night. Harrington told me, "What an amazing night it was, and to end it with Vinnie sitting in was just incredible, he's just a delightful man!"  Trey O'Toole from Pulse Drumming told me that Colaiuta had been working in a session all day and was afraid he might not make it, but luckily for the house, he did.
Speaking of Pulse Drumming and Squashed Grapes, watch for the Alvino Bennett (currently working with Dave Mason) drum clinic on September 10; he'll be joined afterwards at the Grape for an awesome jam including musicians George Hawkins, Jr. on bass and vocals (Kenny Loggins & Jim Messina), Jonathan McEuen on guitar and vocals (Dwight Yoakum, NGDB, Dave Mason), Geo Evans on guitar (Cheryl Lynn, Euge Groove) and TJ, Teddy Jack Russell on guitar and vocals (Leon Russell).
Bombay's 32nd End of Summer Party hits Ventura over the first weekend of September with three stages (including one outdoors with sand and a mechanical bull).  Look for musical acts all weekend long including performances from Mandex, Highway Starr, Dirty Rice, Uproots, Shakey Feelin' and A.D.D to name but a few.
The first ever Oxnard Jazz Festival lands at Oxnard Beach on Saturday, September 10, offering a diverse mix of Jazz, Latin, Soul, Blues and R&B with Tom Brown, Nick Colionne, Howard Hewett, O'Bryan, Quatrosound and Poncho Sanchez. You can get ticket information and more on this special event at OxnardJazzFestival.com.
Alternative/Country rockers, Porter & the Bluebonnet will be swinging through town from Austin, TX, with a showcase at Sans Souci on Friday, September 9. They'll be on the same bill as The Jelly.
The Ventura Theater has been packing in the shows for the rest of the year. You'll want to review their line up so you don't miss any acts such as Jackson Browne, Pennywise, Echo & the Bunnymen, Steve Vai, Good Charlotte, Yellowcard, Ben Folds, Garbage, The Common Kings, Dwight Yoakum and more! Plus, you have the Nardcore show on September 10, and Frost and Fire with the return of Cirith Ungol on October 8.  Details at VenturaTheater.net.
Do you have any music related news or upcoming shows you want help publicizing? Send all information short or long to [email protected], and for updated music listings daily, go to www.VenturaRocks.com.