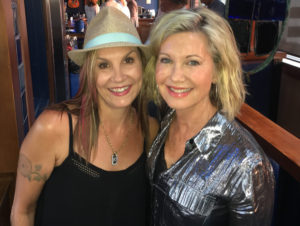 Idols, Icons, and more…
by Pam Baumgardner
VenturaRocks.com
With the Ventura County Fair behind us leaving us with many cool memories of so many amazing concerts, I would be remissed if I didn't share one slightly monumental event that took place on Tuesday afternoon.  One of our musical treasures we claim as our own is Jimmy Calire who you can find playing here in town with several different bands. I once wrote about stories Calire shared with me when his band Raven played in New York City and Jimi Hendrix would join in on the jam and I even once read that Janis Joplin tried to hire him at one point. Calire also toured with America in the seventies, so it was really cool when America played at the fair and invited Jimmy to join them for their final song, their most iconic tune, "Horse with No Name".  I had to ask Jimmy about it and he modestly told me, "Joining them on the song was great, but just catching up backstage was even better."
Another anecdotal story I must share with you involves another local artist whom you can find singing her Aussie heart out most weeks here in town, of course I'm speaking of Karen Eden.  Mark Hartley of the Watermark specifically had Eden booked for Thursday, August 4, in order to surprise her with one of Eden's idols. Karen told me, "I was half way through a song when Hartley gave me a mischievous look and out from behind him stepped none other than Olivia Newton-John!" Karen of course immediately recognized her and smiled a huge grin. She told me, "I can't believe I kept singing!"  After the song Karen went up to Olivia and gave her a big hug.  Karen got to tell her how she grew up listening to, learning from and loving her. Karen confessed, "She was so lovely; it was a treat of a lifetime for me."  It also turned out that Karen's guitarist that evening, Cary Park, had played on one of Olivia's albums back in the 90s. What a night!
And just so you know Mark Hartley, Dave Grohl is my favorite idol.  Just sayin'.
Music Under the Stars continues Saturday nights throughout the summer at the historic Olivas Adobe with music from the Shari Puorto Band (Rock 'n' Blues) on August 20 and Savor (Santana tribute band) on August 27 which is already sold out.
And finally Spencer Makenzie's Cornhole Tournament has been growing exponentially gaining recognition as the West Coast's biggest cornhole/bean bag tournament and though their main focus is the contest, they're also continuing their End of Summer party with a free concert Saturday, August 27, featuring Mandex.  Show starts at 6 with Andre, then Brothers Fortune and the headliners at 8.
Do you have any music related news or upcoming shows you want help publicizing? Send all information short or long to [email protected], and for updated music listings daily, go to www.VenturaRocks.com.