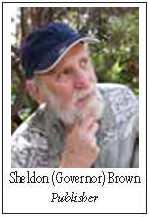 •  Very sad, but not at all surprising, Brooks Institute is closing down. The City and building landlords might have gotten overly excited that Brooks was moving downtown. A closer examination, though, would have shown that Brooks has been in serious condition for several years with a declining student enrollment that could hardly support what they were attempting to do.
The handwriting was on the wall a few weeks ago when the president of Brooks, Edward Clift, was fired and the majority of the board of trustees resigned.
Not sure who to feel the most sorry for here. Perhaps the students (some from China and Europe) that have likely lost considerable money and possibly college credits. Not to mention city officials, property owners (who will have liens placed on their buildings) and downtown merchants who have been eagerly anticipating Brooks' arrival and certainly the wonderful faculty who will be out of a jobs very shortly. There were also many construction workers involved as well – I would guess not all payments have been made. I'm sure lawsuits will follow next.
•  Turning to politics, in this issue we have articles about City Council Member's Neal Andrews and Carl Morehouse. Carl has decided that he will not be running again after first winning a seat in 1999. This will mean at least one new member of the council will be joining the council in November, which I believe will be good for the Council and Ventura. There are several very qualified candidates running.
Regarding Neil, he has announced that he has resigned from the Ventura County Republican Central Committee. I applaud him for having the courage of his convictions and for making what was, I'm sure, a difficult personal decision.
•  Some of the questions that commentator's ask at the Olympics are really stupid – , would love the athletes to give the answers that they would like to. For instance, after winning a swimming event, the question was, "How do you think that you did that?" Answer should have been, "I swam fast!"
•  I have finally figured out Trump. He is senile and delusional and doesn't realize that he is actually running for president. Seems like he believes that the race is a reality show and the more outrageous he is (like Howard Stern) the better the ratings will be for the show. And Russian President Vladimir Putin has dismissed several of his staff members, hmm, apparently making room for Trump.
•  Someday, I will finally learn to use the words "than" and "then" correctly in sentences, but in the meantime, keep correcting me – I can take it.
•  As goes massage parlors and strip clubs, goes Ventura. Ventura is updating its ordinance regulating adult businesses and is using an outside firm to update the zoning code. The City will spend around $211,000 to develop the ordinance.
Officials will be meeting with business owners of "legitimate businesses" to make sure that new regulations don't unnecessarily hinder their operations. Several massage operators are concerned that it could hurt their practices, while doing little to curb human trafficking and prostitution.
The need to update the current ordinance is a result of the myriad of massage parlors that have opened up in the last few years, and Agassi Halajyan's proposal to open up a strip club at 4721 Market Street. Ventura's entertainment ordinance has not been updated in more than 20 years.
Officials initially tried to block the business by saying that the club might be near a school, which turned out to be unfounded. When this tactic didn't work, the Council passed an "urgency ordinance" that included regulations that the club be a "no touch" business, offered no lap dances, closed at 2 a.m. and had strict interior and exterior lighting requirements.
Halajyan hasn't initiated any processes with the city since the passing of the emergency ordinance, so perhaps the restrictions are too prohibitive. The fact that alcohol could not be served there would certainly reduce its potential income.
•  It's just the beginning of the official fire season in California and yet almost 225,000 acres have burned so far – 16 times the size of Ventura.
•  In order to promote low-income housing, the City Council voted 7-0 to rezone 691 Riverside St. from industrial to dense residential. The vote clears the way for a 23-unit residential development.
The planning staff's report stated "This is a 100 percent affordable-housing project for persons of low/very low/extremely low income levels, which are the greatest affordability level needs in the city's designated Regional Housing Element Need."
This area is mostly residential now and is an appropriate use of that property. The development will include 15 two-bedroom and eight three-bedroom units on just under an acre.
As part of the action, the council also waived $25,000 in fees for the developer, which will come from the general fund contingency.
I like to see the city help support/promote this type of housing. I wish they would proactively support other types of developments, as it can take up to 10-years from initial submittals to a project being built here. As a result, some developers run screaming out of Ventura. Look at all the empty dirt lots we have here.
•  In South Sudan, a price for a bride (some as young as 12) is 20-40 cows. A girl who is seen as beautiful, fertile and of high social rank can be worth as much as 200 cows. It is rumored that a beautiful American movie star can be worth 10,000 cows with a few goats thrown in to seal the deal.