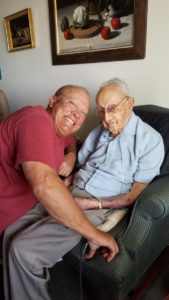 Just a few weeks shy of his 103rd birthday former biochemist, Howard Boroughs passed away.
Howard Boroughs, came to Ventura in 1979 with his beloved wife Evelyn and their canine companion, Daisy. Thanks to their generosity, we have The Evelyn and Howard Boroughs Library at Ventura College and the dog park at Camino Real Park that allows canines and their human companions to romp unleashed. And many other things in our community.
Behind the Museum of Ventura County is the Evelyn and Howard Boroughs Children's Garden with a 4 foot bronze turtle for the children to play on that Howard commissioned.
Because of their love of dogs, Evelyn and Howard also created an endowment for those in Ventura who breed Guide Dogs for the Blind. Additionally, Howard, a major contributor to the Ventura Music Festival, sponsored the Rising Stars program and is a cornerstone sponsor for The Rubicon Theatre.
After serving in the Navy from 1942 to 1945, Boroughs earned a Bachelor's Degree in Biochemistry from the University of Southern California in 1949 and a doctorate from California Institute of Technology a few years later.
He eventually became director of research at California Polytechnic State University, San Luis Obispo and  retired in 1975.
Having sat on both the Board and Advisory Board of CAREGIVERS (Volunteers Assisting the Elderly), each year Howard has donated scholarships that are given to outstanding student volunteers.
And, when Phase Two of the Museum of Ventura County is finished, the large gallery will be renamed the Evelyn and Howard Boroughs Great Hall thanks to his help and participation in making this a reality for Ventura.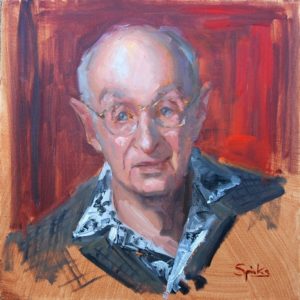 When asked about his life while having his portrait  painted by Johanna Spinks he stated "I'm a very fortunate man, I've traveled and learned, I've lived in exotic places from Hawaii, to Costa Rica, to Paris, and now and for many years Ventura has been my home where I am very happy and content. I believe in giving back to my community. Most important, I had the good fortune to spend 66 years married to the woman of my dreams and share our love of people and cultures, art, life-long learning, and literature."
The Breeze asked him what do you like most about Ventura?
"We had family living in the Valley and wanted to be close to them, but as travelers of the world we still wanted to be near the ocean in a setting more befitting our "eclectic nature." Ventura seemed (and turned out to be) the ideal place to settle.  We quickly grew to love our new home and became active in the community. Also, I find that in Ventura there is more interest in the arts."
In remembering Howard CAREGIVERS Executive Director Tammy I. Glenn, MBA said
"Howard was a dear part of the family, having worn many hats with us.  At 93, he first came to us as a frail senior who wanted someone to call every morning and make sure he was out of bed and on the go.  Those calls were so effective, he joined our advisory board and our golf tournament committee for half a dozen years.  In 2006, CAREGIVERS introduced him to Volunteer Gary Best who kept a regular eye on Howard week-after-week these last 10 years.  Gary was The Volunteer and Howard would say his "best friend!"  Definitely a success story for Howard.  Howard will be deeply missed."
A celebration of his life will be held tonight at 6 p.m. at the Rubicon Theatre.