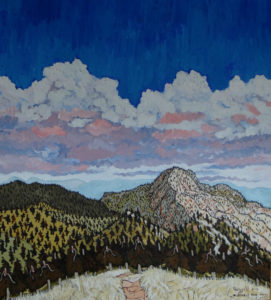 Solo show of artworks by artist Robert Wassell titled "The Penumbra of the Forest" at the  Buenaventura Gallery, 700 E. Santa Clara St. from Aug. 23 – Sept. 17.
With an opening reception on  Saturday, August 27, 5 – 7pm at the Gallery.
For more than three decades, artist Robert Wassell has hiked the Los Padres National Forest in pursuit of rare vantage points and to capture the penumbra — the essence of the forest, a presence you feel when alone in nature — in his paintings.
"I'm an expressive representational painter trying to capture the elusive penumbra of our local forest," said Wassell, whose show will include several Channel Islands scenes. Many of the new pieces also feature expansive skies.
The Gallery is open 11 a.m. to 5 p.m. Tuesdays through Saturdays. For more about the nonprofit Buenaventura Art Association and its programs, visit www.buenaventuragallery.org or call 648-1235 during gallery hours.