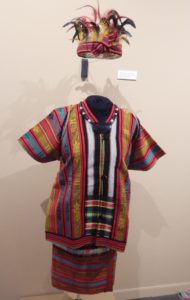 Asian and Pacific Americans ancestral roots represent more than 50 % of the world, extending from East Asia to Southeast Asia, and from South Asia to the Pacific Islands and Polynesia.
In commemoration of this important history, "I want the Wide American Earth: An Asian Pacific American Story" is now on display at the Museum of Ventura County as part of a 21-city national tour. This exhibition was created by the Smithsonian Asian Pacific American Center and the Smithsonian Institution Traveling Exhibition Service and has been greatly enriched by art and artifacts from local Asian and Pacific Americans
This exhibit celebrates Asian Pacific American history across a multitude of cultures and explores how Asian Pacific Americans have shaped and been shaped by the course of the nation's history. It tells the rich and complex stories of the very first Asian immigrants, and their participation in key moments in American history by many photos, written history, clothes and  art.  And their contributions to our very local history and culture which can be observed throughout Ventura.
"The Wide American Earth: An Asian Pacific American Story" includes contributions from local artists Hiroko Yoshimoto, Tiger Huang, Virgil Cardinez, Bijian Fan and Katherine Chang Liu as featured in this exquisite presentation of fine art and Asian culture and traditions, old and new.
The exhibit is not to be missed and closes on August 28.