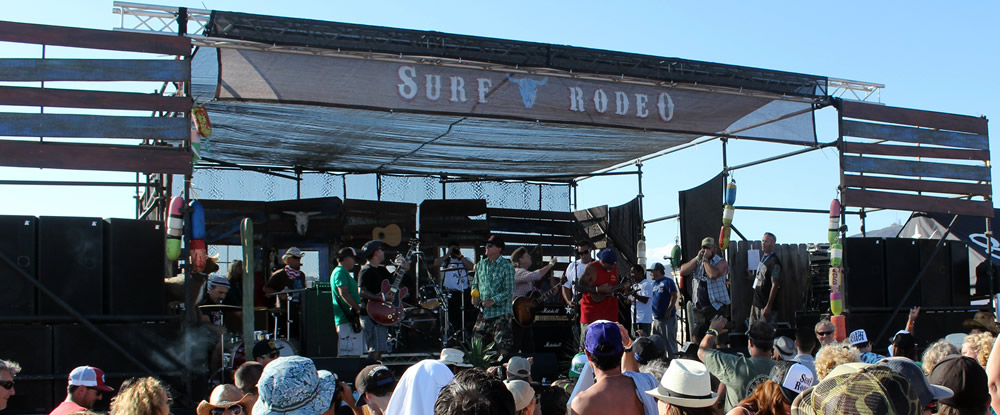 Summer music heating up!
by Pam Baumgardner
VenturaRocks.com
One of my favorite events of the year, Surf Rodeo, is finally upon us over the weekend of July 16th and 17th! You won't want to miss this year's music line up with a great eclectic mix of local, near local and national with over two dozen bands continuously playing on two different stages. The crew have it down to fine art while one stage is live, the other is tearing down and setting up the next band. Stationed between the two stages of course is where the surf competitions take place with male and female categories from 13 and under up to 45 and over including a Pro/Open category with $1,000 purse. All seriousness aside, you'll want to catch the "greased pig" competition where oiled up surfers try to tackle the waves with grace, which of course turns out to be nothing but hilarious.
Music starts at 10 am both days; high on my list of priorities music wise include Dirty Race, Mark Masson and Phriends, Hy Brasil, The NaVaNaX, No Duh, Spencer the Gardener, The Pullmen, an obligatory set from Raging Arb and the Redheads and of course the headliner, Dave Wakeling and The English Beat who will wrap up the weekend on Sunday.
The Ventura Music Festival's 22nd season runs July 15 through the 24th with the big ticket being Sergio Mendes, "A Celebration of 50 Years of Brasil 66" on Friday, July 22.  Ticket information can be found at VenturaMusicFesitval.org; however, there will be a couple of free events, the first one on Friday, July 15 at 6 pm at the corner of California and Santa Clara with the Festival Brass Quintet and the second one, a Master Class on Saturday morning July 16 in the Ventura college Performing Arts Center.
9 Mile Skid (Grateful Dead tribute band), are calling it day, while a few former members of Bullet Made Statues, StoneFlys, and Trash Honey have come together to form a new band, Goodnight Kiss. The band's already making their mark on LA whilst playing our local haunts such as Amigos, W20 and Sans Souci.
The Ventura County Fair doesn't open until the first week in August, so don't plan on taking your vacation during their run as their music is exceptional from UB40, a return of Joan Jett and the Blackhearts and one of my favorites, Third Eye Blind. Of course all music is included in the price of admission; get the lowdown at www.VenturaCountyFair.org.
And finally summer wouldn't be summer without Music Under the Stars at Olivas Adobe on Saturday nights through September 3rd.  July 9th kicks off the season with Mirage – Visions of Fleetwood Mac.  All dates and ticket information can be found on the City's website: www.CityofVentura.net/mus.
Do you have any music related news or upcoming shows you want help publicizing? Send all information short or long to [email protected], and for updated music listings daily, go to www.VenturaRocks.com.