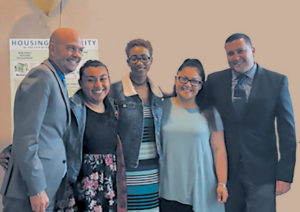 The Housing Authority of the City of San Buenaventura (HACSB) is pleased to announce the award of scholarships to Section 8 tenants or tenants of rental properties owned or affiliated with the Housing Authority through its second Annual Scholarship Program competition. The HACSB Annual Scholarship Program is the result of a partnership with Pacific Western Bank, awarding two $2,000 scholarships for students attending four year institutions and two $750 scholarships for students attending two year institutions. HACSB received and evaluated scholarship applications from among the HACSB's Public Housing and Housing Choice Voucher participants in an open, competitive selection process. The selected recipients are currently attending area institutions or are recent graduates of local schools with plans to continue their studies.
The HACSB hosted its second Annual Scholarship event at the Crown Plaza Hotel on Tuesday, June 21 with this year's recipients Luz Ruiz, Bridget Mayanez, Mikaela McCowan, and Daisy Sumaya.
The event brought together the scholarship recipients and their families along with a few of their school teachers, counselors, and mentors to celebrate educational goals with HACSB staff, partner agency representatives, and representatives of local legislators.
"Education creates a path to change the world and it is an honor to celebrate the commitment these young women have made to furthering their future," said Denise Wise, the HACSB CEO. "Education is the key to success, and the Housing Authority, its employees, and partners are extremely proud to support them in achieving their goals."
In order to continue the Annual Scholarship program into future years, the HACSB is hosting its first Scholarship Fundraiser, the HACSB 2016 Haunted Housing Run. This year's inaugural Haunted Housing Run event features a 5k, 10k and Kid's 1 mile fun run on Saturday, October 29th at the Ventura Pier. All donations and proceeds from the Haunted Housing Run directly support the Scholarship Program. To sign up, volunteer, or donate, visit the event website at www.hauntedhousingrun.com.
The HACSB is the largest residential landlord in the City of Ventura, with 471 public housing units, more than 1,500 Section 8 vouchers, and over 350 non-profit affordable rental units. The agency is actively working to increase the supply of affordable housing and to improve the quality of life for hundreds more of the low-income residents throughout the City of Ventura.