In the early morning hours of July 3rd, Ventura City Fire and Police Department responded to a report of a single vehicle accident with a trapped victim by Victoria and Ralston.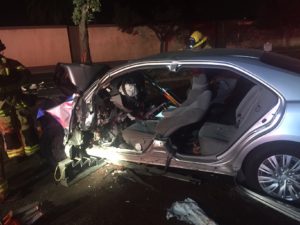 When fire crews arrived they discovered a passenger vehicle that had hit a traffic camera pole as well as a tree in the median of Victoria. Firefighters using hydraulic rescue tools to cut and pry the vehicle from the victim were able to free the trapped driver 45 minutes after their arrival. The extrication was complicated by the extensive damage to the vehicle which entangled the drivers' legs under the dashboard. While the extrication was taking place, additional firefighters provided advanced life support to the driver and worked to suppress any fire potential from the vehicles' leaking fluids.
Once extricated, one adult male was transported to a local trauma center with non-life- threatening injuries.