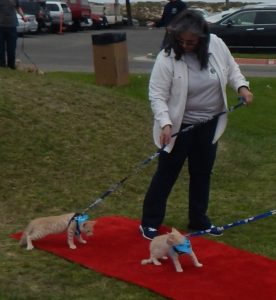 • LostCatVentura.com and LostDogVentura.com are free resources for finding lost cats and dogs in Ventura County. And where you can post a notice for your lost pet.
• The Summerfest All Breed Dog Show, by the Ventura County Dog Fanciers Assoc. is June 30-July 3 (7am-8pm) at the Ventura Fairgrounds. And if you like horsies the Ventura County Fair Youth Horse Show is July 15-17(8am-4pm) at the Fairgrounds Morgan Equestrian Center.
• Ventura resident, John Darling has kicked off his fund raising site, Tinker's Treat(www.tinkerstreat.com).
Mr. Darling explains his effort and why he started Tinker's Treat. "Tinker's is a site dedicated to raising money to pay the adoption fees of Senior Animals. My little dog, Tinker, died on April 1, 2016 after having lived with my family for 2 ½ years. She was the quietest, most well behaved, and most loving little dog I have ever had but before I adopted her, she lived at Humane Society of Ventura County for a year. Despite being very cute and very sweet, no one wanted her due to her age. She was seven years old when I took her home. In an effort to encourage others to adopt older animals and take pleasure in the pure joy I had while Tinker was with me, I want to raise funds that will pay the adoption fees for Senior Dogs because old dogs need love too." For more information, Mr. Darling can be contacted at 824-7901. Those who have older dogs should consider getting proper nutrition for your aging pup.
• Recently a 15-month-old yellow lab died in Salt Lake City after being left in a hot car for about four hours. Officers responded about 2 p.m. to a call about an unresponsive dog in a car in a parking lot.
The lab was removed from the car by an animal control officers. Officers took the dog to the Utah Veterinary Center, where a veterinarian pronounced the dog dead.
The dog's human told police he'd checked on the dog at 10 a.m., but hadn't been back outside until after the officers arrived. I'm sure that he is a loving dog person but there's a chance he could face possible felony or misdemeanor charges.
This type of incident happens far too often, people just don't realize that the inside of a car on a hot day can reach more than 120 degrees within minutes, and dogs who are left inside can't sweat, so our organs overheat.
A good rule of thumb is that when the temperature is 70 degrees or higher, it's too hot to leave an animal in the car. Or just never leave us alone in your car, we get lonesome.
If a dog shows signs of distress from heat ­— heavy panting, glazed eyes, a deep red or purple tongue, vomiting or staggering — people should help gradually lower their body temperature by using cool water and wet towels and by taking them to a veterinarian.
• I hate fleas they make me itch. It's practically impossible to keep fleas and ticks completely at bay but there are some steps you can take to try and minimize the opportunities for contact with your pet.
Wildlife, including opossums, coyotes, raccoons, and skunks, and even untreated cats and dogs can deposit flea eggs into a yard. It may be possible to reduce flea infestations by limiting the access these animals have around your house and yard. Your local nursery or garden professional may have some advice on what to plant or other strategies to discourage animal trespassers.
It can be helpful to alter the landscape around your homes to make it unsuitable for ticks and their hosts. For example, keep the lawn mowed, remove leaf litter accumulations and prune shrubs and trees.
Contact a professional pest specialist if you have any questions regarding environmental treatments for ticks.
Despite your efforts to reduce the fleas and ticks in your yards, we may still be exposed to these parasites, so you should take measures to help protect us. Treat all dogs and cats in the household with a flea and tick control product. One untreated pet can lead to a flea infestation in the household. Topical products can help protect your dog from unexpected flea and tick sources by killing adult fleas, eggs and larvae, and all stages of ticks.
Consistency is key. Even one missed dose of your monthly flea and tick control can set the stage for a flea infestation that takes months to resolve, or put your pet at greater risk of exposure to a tick borne disease. So be sure you treat your pet now and continue monthly applications throughout the rest of the year. You know that you hate to see us scratching all of the time.
---
"Al, my sweet boy. I'll keep you in my heart forever."