Creator of the Knowledge Bowl Suz Montgomery coaches her senior team Clint Jacobs, Don Haskell, Terry McCoy and Mary Ayers. Photo by John Hankins.
The seventh annual Knowledge Bowl between seniors versus teens was truly a "Battle of the Ages" on June 6, but they proved to be so evenly sharp that the end was a proverbial tie that binds younger and older citizens.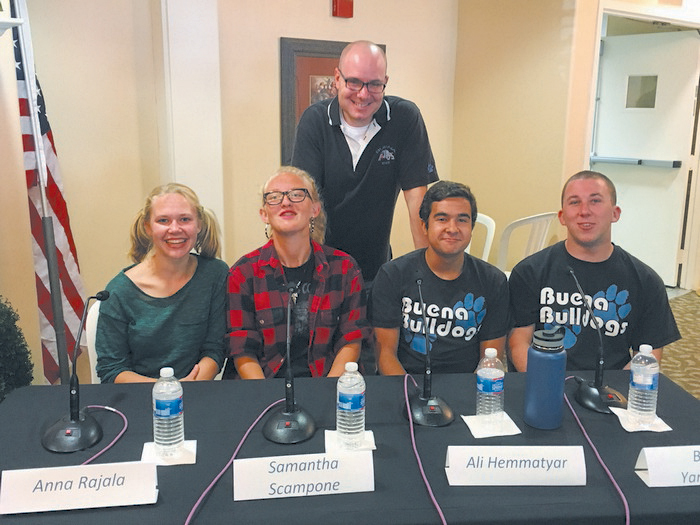 Out of 50 questions, each team of four got 21 right and a last tie breaker – full names of the four Beatles – was a "Come Together" moment when both nailed the Fab Four.
"This is awesome," said Suz Montgomery, "everybody wins." Montgomery, who created the event, is part of the Ventura Adult and Continuing Education division (VACE) of the Ventura Unified School District. Over the last six years, seniors and teens tied at three matches apiece, so this 2016 version could've been a tie breaker.
The public event is similar to a Jeopardy show and was filmed by CAPS-TV to be repeated soon (see schedule at www.capsmedia.org). The live audience made it lively with enthusiastic applause and sometimes a lot of whispering of answers while each team had 30 seconds to answer, read by Buena High School Principal Bobbi Powers.
The questions were created by Buena's librarian, Joel Levin, and covered Literature, Current Events, History, Geography and Potpourri. Two questions that stumped both teams included: Nairobi is the capital of what country (Kenya) and what was the gorilla's name (Harambe) who was recently shot in a zoo when a child fell into its enclosure? Mary Ayers of the senior team broke up the audience when she quipped the name was, "Dead Meat."
"The Knowledge Bowl is an extension of my idea to unite our community by building bridges between the ages," Montgomery said. It was held at Aegis Living of Ventura, which went all out in providing the venue and enthusiastic staff support.
The event drew many dignitaries, including Ventura Schools Superintendent Michael Babb, School Board member John Walker, Ventura City Council member Cheryl Heitmann and VACE Principal-Director Carolyn Vang-Walker.
"The Knowledge Bowl has become one of the most anticipated events in the community, with both sides excited to show how much they know," Montgomery said.