Photos by Bernie Goldstein
On Monday, May 30 a Memorial Day service was held at St. Mary's Cemetery honoring the 76 American veterans and the one 1869 Medal of Honor recipient that are buried there. This 1862 historical 7 acre cemetery contains 3,000 American Ventura Pioneers.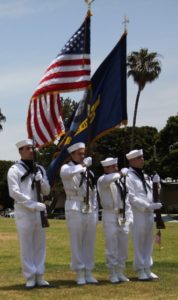 After the prayer and pledge the Port Hueneme Naval Color Guard paraded the flag followed by the playing of TAPS. Abraham Lincoln played by Don Ancell addressed those attending the memorial.  Richard Senate, local historian and  story teller gave a fascinating account of  Ventura and the cemetery's history.