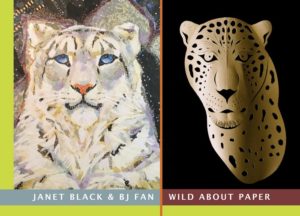 Duo Show by artists Janet Black and BiJian (BJ) Fan entitiled "Wild About Paper" at the Buenaventura Gallery, 700 E. Santa Clara St. Exhibition runs June 28 – July 23.
Artists Janet Black and BiJian Fan create figurative collages and sculptural images bringing to life a menagerie of creatures, real and imaginary, only using paper.
Fan, a Camarillo resident, and Black, of Ventura, will be at the gallery for a reception 5-8 p.m. July 1, during First Fridays Ventura, the city's monthly arts celebration. Each is donating original art for a raffle at show's end as a fundraiser for the Buenaventura Art Association.
"Wild About Paper is a statement of both my paper addiction and that both BJ and I are incorporating wild creatures (and some domestic ones) in our artwork," Black said.