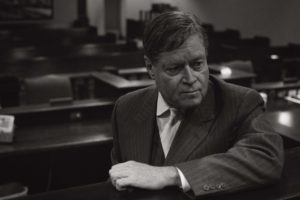 Darrow is at the Rubicon
by Jim Spencer and Shirley Lorraine
The legacies of two prominent figures from the early 20th Century remain major influences today.
One was magician Harry Houdini whose approach to self-promotion made him a household name and revolutionized mass marketing concepts.
The other was the legendary lawyer, Clarence Darrow. His personal story and insights into his legal career are the focus of Darrow, the current offering by Ventura's Rubicon Theatre Company.
Darrow became the country's best known trial attorney, not only for the controversial cases he took, but for his courtroom skills and his force as an instrument for social change.
He consistently aligned himself with the underdog. For example, a one point he resigned a lucrative job as a railroad lawyer to represent strikers and union leaders against the railroads.
In his time he famously defended urban terrorists, thrill killers, championed child labor laws and represented a science teacher put on trial for teaching evolution. Many of his cases became the inspiration for successful films.
James O'Neil, the Rubicon's co-founder and Artistic Director Emeritus, stars in the role of Clarence Darrow in this one person show. The part has special meaning for O'Neil because he is actually a relative of the great litigator – O'Neil's great-grandfather, Henry A. Darrow, was Clarence Darrow's first cousin. "I'm so happy to be at an age where I can play Clarence and share his history and his humanity with my family and community," says O'Neil.
The intimate show is presented in the round with the audience seated on all sides. The action takes place during a latter period in Darrow's career.  From this perspective he recounts for the audience many of his life experiences, triumphs, agonies and cases. The topics range from his upbringing, to his marriage with Jessie, to his courtroom battles. Along the way he reveals glimpses into how he felt about and why he took certain cases.
The play is directed by Rubicon Artistic Associate Jenny Sullivan, who is fresh off her directorial success with the American stage premier of The Man Who Shot Liberty Valance at the Rubicon – a show that received critical accolades.
The script is penned by multiple award winning playwright and Santa Barbara resident, David Rintel.
The Rubicon Theatre Company is a nonprofit, acclaimed professional regional theatre that has staged more than 115 productions over the last 18 years and garnered awards along the way from the New York Drama Desk, the L.A. Drama Critics Circle, the NAACP, plus multiple Ovation, Indy, Garland, Robby and REP awards.
Darrow plays Wednesdays through Sundays until June 12, 2016 at the Rubicon Theatre Company, 1006 E. Main Street, Ventura, CA, 93001.  Show times: Wednesdays – 2 & 7 p.m. (Talkbacks follow 7 p.m. performances); Thursdays & Fridays – 8 p.m.; Saturdays – 2 & 8 p.m.; Sundays – 2 p.m. Tickets: $25 – $54.  Information, group discounts, ticketing and seat selection: www.rubicon.theatre.org. or (805) 667-2900.