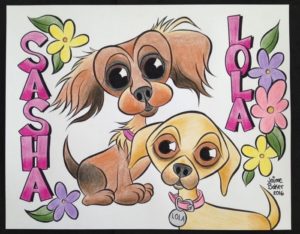 • Remember that the Felix N Fido "Bring Me Home" Adoption Festival is on Sunday, June 5 from 11am-4pm at the Ventura Harbor. It's a dog friendly , family day so please attend and you might even get to pet me (for free) and have a dog caricature drawn by Jaime Baker.
• by Victoria Usher
Not too long ago a commercial fisherman from San Diego lost his wonderful dog Luna after she fell overboard into the Pacific Ocean. Only a month after the incident the one-and-a-half-year-old German shepherd was found on San Clemente Island, around a Navy-owned training base. Luna's owner, Nick Haworth along with the Navy personnel he had notified searched the waters for about two days searching for Luna at the time of the incident, but found no sign of her. She was presumed to have drowned until staffers arrived for work on this specific morning and found Luna sitting by the side of the road. A biologist examined Luna and found her a little thin but otherwise completely healthy. Luna's dog tag was lost so the Navy decided to give her a new one. Her new one now says her name but also has a special message on it, a reminder to everyone: "Keep the Faith."
• The National Dog Bite Prevention Week® takes place during the third full week of May each year, and focuses on educating people about preventing dog bites. I forgot to remind you of this. I keep sooo busy.
With an estimated population of 70 million dogs living in U.S. households, millions of people – most of them children – are bitten by dogs every year. The majority of these bites, if not all, are preventable. If you own a dog then you should know local bite laws; these are good to know if you are the victim of dog bites too.
According to the Center for Disease Control, dog bites were the 11th leading cause of nonfatal injury to children ages 1-4, 9th for ages 5-9 and 10th for ages 10-14 from 2003-2012.
The Insurance Information Institute estimates that in 2013, insurers across the country paid over $483 million in dog bite claims thanks to firms like www.nehoralaw.com.
The U.S. Postal Service reports that 5,581 postal employees were attacked by dogs in 2013.
Children are, by far, the most common victims of dog bites and are far more likely to be severely injured.
Most dog bites affecting young children occur during everyday activities and while interacting with familiar dogs. Senior citizens are the second most common dog bite victims. If you find yourself the victim of a dog bite, you might want to check out someone similar to this Dog Bite Lawyer who might be able to help you with your case.
So if your dog is overly aggressive and might be a biter talk to your vet about prevention and there are lots of good doggie classes taught by local trainers (some are given by the City of Ventura).
• Should you let your pet share your blankets and your bed? A recent Mayo clinic study is challenging the conventional wisdom that animals in the bedroom can mess with your sleep. Whoever came up with such a stupid idea that we can mess with sleep? Maybe your snoring messes with our sleep.
Patricia Sullivan had canine company in bed as soon as she brought home her first puppy.
"He started to cry, and whimper and I felt sorry for him and I put him on my bed and he curled up in a ball and he was asleep and he's been there ever since," she said.
Sleep experts have long thought that pets in the bedroom are disruptive to a person's sleep but a recent Mayo Clinic survey found 41 % of sleep patients who share their beds with their animals find it beneficial.
"If having a pet nearby helps them feel relaxed and gives them a sense of security, which permits them to fall asleep with less difficulty, then I think that is something that does deserve attention," said Dr. Lois Krahn, a sleep specialist at the Mayo Clinic.
Twenty percent of respondents however, admitted their pets interrupted their sleep.
"They need to know how well they sleep as a person and how well the pet sleeps, they need to take into account the size of the pet," Krahn said.
Other considerations include the size of the bed and the number of pets you have (It's just me and Savana, unless Sheldon is considered a pet). Your pets also must be clean and free of fleas.
Even though their barking sometimes wakes her up, she said she wouldn't have it any other way.
The study did not look at whether different types of pets or different species were more disruptive than others. The study authors say they hope to focus future studies in those areas.
• In celebration if its 84th anniversary, the Humane Society of Ventura County is holding an open house at its Ojai kennel on June 11, from 10 a.m. to 4 p.m.
In addition to providing behind-the-scene tours of HSVC's facility at 402 Bryant St., humane educator Dawn Reily will be giving presentations, with the help of animals at the shelter, and be available to answer all animal questions. There will be a craft table, scavenger hunt and refreshments available, so attendees are encouraged to bring their children.
The HSVC also is using the day to launch its "Tiles for Tails" campaign to help build a new kennel. Donors will have engraved personalized titles made by Firefly Ceramics that will be on permanent display at the kennel.
For more information, call 646-6505.
The Humane Society of Ventura County is a private, nonprofit organization founded in 1932. It does not receive federal, state or local tax dollars to operate and relies solely on private donations.