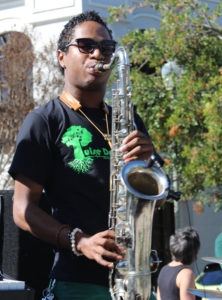 Local Artist Hitting the Big Time!
by Pam Baumgardner
VenturaRocks.com
Jacob Scesney is making me super proud…not only has he been touring the world with various bands including Postmodern Jukebox, but he's been making the rounds with Mike Posner on the Ellen Show and Late Night with Seth Meyers.  Jacob is one of the most talented sax players and hardest working musicians around.  If he's not scheduled you'll most likely find him sitting in with local bands from Squashed Grapes, to Bombay's to Amigo's. He told me that he'll be out with Posner for a stadium tour all summer with Nick Jonas and Demi Lovato in the lineup, plus, they'll be on Saturday Night Live and playing a gig at Wembley to an audience of 100,000 in June.  He's a sweetheart of a guy and I couldn't be more excited about his career!
Shaky Feelin' CD release party will be held at Bombay's on Saturday May 21 which is perfect timing as the band will be in the studio with me at the end of the month recording the next episode of Ventura Rocks at CAPS.
A couple of bands coming up at Discovery you won't to miss, Los Lonely Boys on Thursday, May 19, Spencer the Gardener on Friday the 20th, Big Tweed on Saturday the 21st and Fortunate Youth on Sunday, the 22nd.
Bad Sam Presents TSOL and Guttermouth at The Garage on Friday May 13. And Numbskull Productions is bringing English punk rock band Angelic Upstarts to the Garage with The Rouse opening on Tuesday, May 24.
Noel Paul Stookey of Peter Paul & Mary, will be at the Rubicon Theater for one special performance on Sunday, May 15.
You should get your tickets soon for the Simi Valley Cajun & Blues Music Festival for May 28th and 29th with Booker T, Leon Russell, Eric Burdon & the Animals, Barbara Morrison, and more including local musicians and friends, Guy Martin and Kelly's Lot.  See www.SimiCajun.org for tickets.
I'm sorry to report that Blues artist Candye Kane passed away May 6. Kane had performed at the Ventura Blues Club for Hi-Hat Entertainment this past December; Jerry McWorter of Hi-Hat said, "Candye was one of our favorites…a true entertainer, singer, song writer and musician." Kane was known as "the toughest girl alive" and had been battling cancer for eight years.
And finally, a lot of bands are going into the studio lately and a lot of bands are using crowd funding resources to help cover costs.  I don't think there's anything wrong with that unless the band/artist is not giving anything back in return.  If I'm contributing $25 or more of my hard earned dollars, then I want a CD or digital download after the recording process is done. Just sayin'.
Do you have any music related news or upcoming shows you want help publicizing?  Send all information short or long to  [email protected], and for updated music listings daily, go to www.VenturaRocks.com.