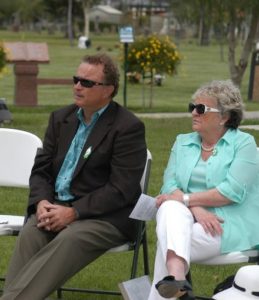 Several prominent local Irish Americans gathered at Ivy Lawn Memorial Park to commemorate the centenary of the Irish Easter Rising, the rebellion that kick-started the Irish struggle for independence.  Organized by John McNally, this special event started at noon, exactly 100 years from the start of the insurgency.
Other participants included Brian Brennan, Maire O'Connell who read the Proclamation, Michael Ward recited the funeral oration of Jeremiah O'Donovan Rossa, Tim Gallagher who read a poem by the British soldier, local writer Jon Obermeyer read WB Yeats Easter 1916, and Sally McNally sang songs of the era in Irish and in English.
Bill Ferguson, President of the Easter Rising Division of the Ancient Order of Hibernians laid a wreath at temporary monument to the executed leaders of the Rising and Deacon Ron Huntly blessed the event with a prayer for Irelands patriot dead.  John McNally gave the main oration which gave told us of the significance of the Easter Rising, who the leaders were and why they scarified their lives for this cause, and his recent experiences in Dublin last month at their centenary events.  A Irish bagpiper played at the beginning and end of the ceremony.
John McNally stated " 100 years ago the men and women of Easter Rising took over central Dublin, declared Irelands Independence and raised the flag of the Irish Republic, which inspired not only Irish people but also nations across the globe to seek freedom from their colonialist masters. It was the spark that would eventually lead to the dismantling of the British Empire. Although it was a military defeat for the Irish it became a moral victory that turned out to be the birth of a nation."