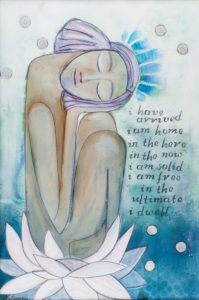 Eco Shumaker, a Ventura mixed-media artist, will present her first solo exhibition of works, titled Wanderlust, until May 28 at the Buenaventura Gallery in downtown Ventura.
"These are the paintings that have come from my travel to Costa Rica and Hawaii. I am feeling the pull to travel and have been intuitively painting whatever moves me through traveling, reading and dreaming,"
Shumaker said she started painting in high school, then studied fashion design in Los Angeles and worked in the garment industry for many years. "I found painting again in 2008 and haven't put my brush down since," she said.
Examples of Shumaker's art can be found online at indigoarthouse.com.
Buenaventura Gallery, 700 E. Santa Clara St., is open 11 a.m.-5 p.m. Tuesdays through Saturdays. For more about the nonprofit Buenaventura Art Association, visit the website www.buenaventuragallery.org or call 648-1235 during gallery hours.