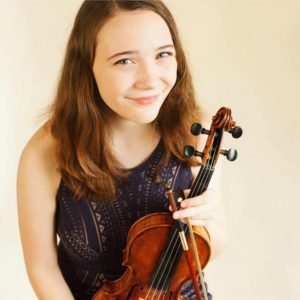 The Ventura Music Festival is proud to present its most diverse Rising Stars concert ever, at 8 pm, Friday, May 6th, at the First United Methodist Church in Ventura (1338 E. Santa Clara).  Admission is free and audience members of all ages are invited to turn out for an exciting 75-minute program featuring young award-winning musicians: a 30-member high school choir; seven classical musicians ranging in age from middle school to college; and a jazz quartet.
The choir is the Camerata high school group of the distinguished Los Robles Children's Choir, performing four songs under the direction of Edward Rouse, accompanied by Christine DeKlotz.
The classical musicians will be Grace Chen, Kaytlyn Becker, Dalton Hayse, David, James Gatchel and Kallen Meyer  who will perform selections by Saint-Saëns, Liszt, Brahms and Debussy.
The  jazz quartet, led by Blake Kasting on guitar, with Alex Smith on drums, Chris Seagraves on bass and Rachel Flowers on piano ,closes the evening with selections from Wayne Shorter and John Coltrane.  Each young musician is a past winner in the VMF Student Jazz Competition.
While admission is free, VMF encourages reservations via FB, or venturamusicfestival.org, by email [email protected] or by phone 648-3146.