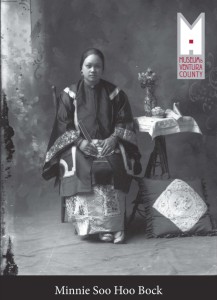 The Museum of Ventura County presents "Ventura @ 150: Celebrating the City of Good Fortune", a commemorative exhibition that celebrates the city's sesquicentennial opening on April 1.
Large-scale portraits of early Ventura residents from every sector of the community transport visitors to San Buenaventura's early days, when the character and direction of the city was being formed. Six-foot high panels with descriptive captions tell the story of men and women who migrated here or were born here and enhanced the community, such as:
Carlos Luis "Charley" Hall – Born in Ventura in 1904 and baptized at Mission San Buenaventura.
Minnie Soo Hoo Bock — Born in Santa Barbara in 1978 to merchants Yee Sing and Chin Shee, Minnie got her name from missionaries who taught her to read, write and speak English.
LeRoy Gibson, Sr. – Born in 1909 in Wewoka, Oklahoma, LeRoy Gibson became a professional boxer, traveling throughout the country under the nicknames "Wichita Wildcat" in Kansas, and the "Bon Bon Kid" in Boston.
Theodosia Burr Shepherd – Ms. Shepherd was known as "the Flower Wizard of California."
For fun, the Museum's curators have created a special section, called "Dr. Bard's Cabinet of Curiosities" that shows artifacts collected over the years by the not-so-well known residents and donors to the Museum of Ventura County, such as:
Finally, there are silver items called "cock gaffs", which are curved metal pieces attached to the ankles of birds for cockfighting; the notable aspect is that they were crafted by a nationally renowned silversmith based in Ventura named Jesus Mardueno, who made bits and spurs in town.
A large photographic of the city of Ventura from the hills, made from glass plate negatives dating back to 1880, shows visitors how the city developed along Main St.  Visitors will be able to leave a sticky note where they or their family lived, filling up the map with generations of residents' "marks."
This exhibition was sponsored in part by a gift from Regent Properties.