Find your creative side and explore Ventura's Art scene at this year's Paint Ventura April 2nd featuring a variety of artists in all mediums creating, selling and competing in downtown Ventura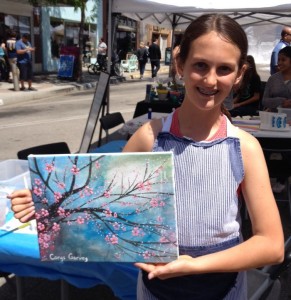 Spring Art Fair And Paint Out/ 10am – 4pm at Plaza Park in Downtown Ventura / free
Spend the day enjoying local arts and craft vendors as you watch them create in their artisan booths. More than 70 fine artists and crafts persons display and sell their original work amid a street festival atmosphere in conjunction with the City of Ventura's 150th Anniversary Festival.
Grab your art supplies and join in the all-inclusive Quick Draw Paint Out where you have 2 hours to paint/ collage/ draw your work of art from start to finish. Open to All subjects, All mediums and All ages.  $10 participation fee,
Or join in and watch the fun happen and be one of the judges to pick the several winners.  Free Kids Interactive Art Activities- Kids QuickDraw Painting Competition, taking place alongside the adult QuickDraw(12-2) kids 12 and under have the chance to paint or draw their own creation. Join us for a fun Spring Afternoon of art and celebration, find out more info at www.PaintVentura.com or  Red Brick Art 643-6400.