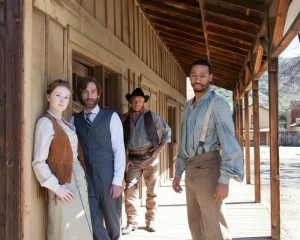 The Man Who Shot Liberty Valance visits the Rubicon
by Jim Spencer and Shirley Lorraine
In 1890 a cowboy named Bert Barricune found an Easterner lying on the prairie. He had been brutally beaten and left for dead by a vicious outlaw named Liberty Valance.
Barricune took the injured traveler to the town of Two Trees where he was nursed back to health by a spirited saloon owner, Hallie Jackson.
The visitor, Ransom Foster, stayed in town. He taught Hallie, as well as her friend from childhood, Jim, how to read and write. Along the way Foster and Hallie fell in love. Barricune, who also had romantic designs on Hallie, remained involved in their lives.
Then word came that Liberty Valance was returning and gunning for Foster.  Should the tenderfoot Foster stay or run? What actually happened next became unclear, but stories about that day propelled Foster into a life of prominence.
The play opens 20 years later when U.S. Senator Ransom Foster and his wife, Hallie, return to Two Trees to attend the funeral of the old cowboy. Through reminisces about those earlier days the truth is revealed about the man who shot Liberty Valance.
With intricately interwoven issues of honor, revenge, loyalty and love, The Man Who Shot Liberty Valance is a new play enjoying its American debut at Ventura's Rubicon Theatre Company. It is based on a 1953 short story that, 50-plus years ago, spawned a movie with the same title. The film featured James Stewart and John Wayne.
The Rubicon's production boasts a cadre of professional actors with extensive film, stage and TV credits. Gregory Harrison plays the veteran cowboy Bert Barricune. Harrison is probably best recognized for his recurring roles on "Rizzoli & Isles," as the title character on "Trapper John, M.D.," and as a neighbor who resides in Ventura part of the year.
The villainous gun slinger, Liberty Valance, is portrayed by Jeff Kober.  A veteran of multiple Rubicon productions as well as lots of bad guy characters for film and TV, Kober is also known for his appearance on shows like "Sons of Anarchy" and "China Beach."
From New York, Jacques Roy has myriad years of stage experience in the East on which he draws as he creates the persona of Ransom Foster, the earnest Easterner around whom swirls the action of the piece.
Sylvia Davidson, last seen in the Rubicon's Ventura and New York productions of Lonesome Traveler, is Hallie Jackson, the feisty saloon owner who is torn between the affections of two men.
Joseph Fuqua plays the sheriff who is reluctant to intervene in conflict – a part that's a far cry from his heroic performances as Hamlet and Professor Henry Higgins in Rubicon productions.
The entire show is under the guiding hand of director Jenny Sullivan, the Rubicon's Artistic Associate.
The Man Who Shot Liberty Valance plays March 2-20, 2016.  Show times: Wednesdays – 2 & 7 p.m. (Talkbacks follow 7 p.m. performances); Thursdays & Fridays – 8 p.m.; Saturdays – 2 & 8 p.m.; Sundays – 2 p.m.  Rubicon Theatre Company, 1006 E. Main Street, Ventura, CA, 93001.  Tickets – $20 – $54.  Information, group discounts, ticketing and seat selection: www.rubicon.theatre.org.  667-2900.