Hi:  I'm Hector, an orange tabby.  I live in Ventura with my mom.  I was born in Texas and rescued from a nasty situation on a Dallas school yard – but we don't talk about that anymore.   I took a long road trip to get here from Texas.  I used to fly back and forth to Texas with my mom but I think my traveling days are over.
Now I enjoy being the CEC – the Chief Executive Cat of the household.  I have several employees (my mom is one) who do my bidding; they take care of such things as feeding me, snuggling with me, playing with me and typing my correspondence such as this email ('tis such an inconvenience to not have thumbs!). I am also a therapist for the other four legged family members.
---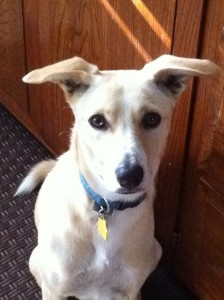 Hi: I'm Teddy, Mira Reverente who writes for the Breeze is my roommate.  I'm a 5 year old, Labrador-Greyhound mix. Love to run, hike, chase after squirrels, cuddle and bark at the gardener and the postman. Will do anything for a treat.