•   I want to wish all of our wonderful readers, advertisers and my incredible staff a Merry Christmas and a Happy New Year. It has been another wonderful year of bringing Ventura's news and information to all of you.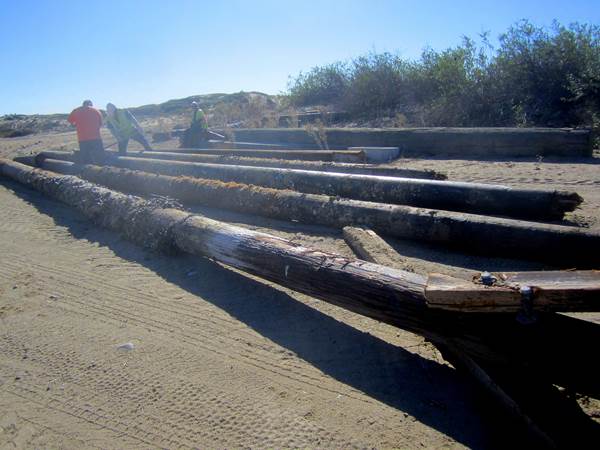 •   The Ventura Pier was severely damaged by the current high waves and the repair could cost up to $700,000. This is a much lower amount than the last time the pier was damaged which was 20 years ago. Those repairs cost over $2 million and took nine months to complete.
•   Congratulations to newly elected Mayor Erik Nasarenko and Deputy Mayor Neal Andrews. Nasarenko and Andrews were selected by their peers on the City Council to serve the City in these respective positions. Eric has big shoes (theoretically speaking) to fill following Cheryl Heitmann, who I think was a great mayor.
•   Cheryl Heitmann told me that she doesn't want to be called ex-mayor but "previous mayor". So, "previous mayor" it is. I asked what she will be doing with all of the extra time she will have now. She told me that she will pursue the projects that she feels are important to her and good for the City, but that she didn't have time to pursue while Major. I'm sure she'll continue to make great contributions to our wonderful city.
•   An interim ordinance by the City Council has extended – for an additional 12 months – a moratorium on the establishment or expansion of massage businesses. As goes massage parlors goes Ventura. All of our problems are now solved.
•   The construction of the new Community Memorial Hospital is moving right along. Permanent power has allowed the removal of some the construction elevators and the building is now enclosed with the installation of the last remaining windows.
The new entrance road, which will be off of Main Street, is being prepared and construction on the new 571-space parking garage has begun. It must be completed before the hospital can open. The new facility is still on schedule to open in late 2016.
A final decision on what use is best for the existing hospital has not been made yet, and will not be until funds are available to do whatever work is deemed necessary.
•   Ventura residents continue to reduce water usage. New figures show that customer water use is down about 23% compared to 2013, exceeding the city's Stage 3 Water Shortage Emergency declaration requiring customers to reduce water use by 20 percent. Residents were even complemented for conservation successes in an article in the Los Angeles Times.
If the big rains do come, as predicted, the yellowing grass that can be seen throughout the city should come back nicely and stay green for some time. So keep watering enough to keep the roots alive. And, pick up your free sandbags from the City if you think that you might be needing them.
•   Scientists studying zircons have discovered evidence that life may have existed 4.1 billion years ago, 300 million years earlier than what was previously thought. I always suspected that.
•   The Federal Bureau of Investigation (FBI) defines a mass shooting as any incident where at least four people were murdered with a gun, not including the shooter. While some of these mass shootings occur in public places, many do not. Mass killings occur every two weeks in the United States.
While the United States has less than five percent of the world's population, nearly one-third of all global mass shootings occur here, and statistics show that they are occurring with greater frequency.
Over half of mass shootings in the U.S. involve domestic violence situations – and two-thirds of the victims are women and children. And, over one-half of the mass shootings in the United States involved a current or former intimate partner.
The Second Amendment states, "A well-regulated Militia being necessary to the security of a free State, the right of the people to keep and bear Arms shall not be infringed." So I think that anyone who owns a gun should be required to belong to a "well-regulated Militia".
•   The Ventura County Transportation Commission has been trying to evict the Fillmore & Western Railway from the Santa Paula Branch line (about 30 miles) since 2013. Having failed to evict the company, they are seeking an injunction by filing a lawsuit with the Ventura County Superior Court.
•   A good thing that some college athletes can make a living playing sports. The Heisman Trophy winner (goes to best college football player) said regarding the other two finalists, "Them two guys were great contenders for the trophy." One of them two guys goes to Stanford – hope that he is learning something.
•   Saudi Arabia's women made big advancements when 20 ladies were elected to local offices ( they were allowed to run and vote for the first time). Well, maybe some strides, because they will either need to walk to their city meetings or have a man drive them because women aren't allowed to drive in Saudi Arabia.
•   A winter warming shelter for the homeless will open in Oxnard this year, but not in Ventura as some had hoped. The Ventura National Guard Armory is usually used but was not available so Oxnard agreed to manage the shelter. The homeless shelter typically alternates between Ventura and Oxnard and this year was to be Ventura's responsibility.
I'm glad the cities were able to come to this agreement. No matter how one feels about the homeless population they are human beings and don't deserve to sleep outside during what is shaping up to be a very cold and wet winter.