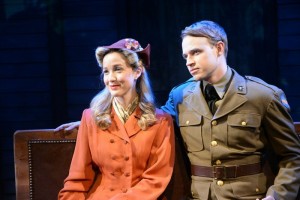 It's already shaping up to be a remarkable season at Rubicon Theatre Company this year with their resplendent opener, the two piano version of My Fair Lady and the world premiere adaptation of Charles Dickens A Christmas Carol by Rubicon Founder, Karyl Lynn Burns.
What can audiences look forward to experiencing in 2016? The season features two American Premieres, a beloved classic, a one-person drama about an American icon, and a campy musical send-up of '50s sci-fi films loosely based on Shakespeare's The Tempest.
The next mainstage production opening January 27 is See Rock City the second play in the Nibroc Trilogy by Arlene Hutton. Those who saw the Ovation nominated Last Train to Nibroc will want to discover how May and Raleigh's Appalachian love story continues. Even for those who missed the poignant Last Train to Nibroc at Rubicon, See Rock City stands alone as a funny, touching and universal portrayal of a young couple very much in love.
Next up is Jethro Compton's stage adaptation of the film classic The Man Who Shot Liberty Valance in its American Premiere on the Rubicon stage in March, directed by Rubicon Artistic Associate and multiple award-winner Jenny Sullivan.
Another American Premiere follows with Sabina Berman's eXtras. In this new adaptation, a Hollywood film crew arrives in a village in Mexico to shoot a major motion picture, wreaking havoc on the fragile ecosystem of the community. Two major stars from Mexico, brothers Bruno and Odiseo Bichir, play all of the characters — starlet, director, crew and the locals who are working as extras on the set.
Next in the season is David Rintels' riveting tale of Clarence Darrow. This trenchant and timely drama is based on the life and landmark cases of the illustrious, controversial trial lawyer who at one time commanded over a quarter-million dollars for each case. Rubicon's production features Co-Founder and Artistic Director Emeritus James O'Neil, whose great-grandfather was Clarence Darrow's cousin.
Several productions are still in consideration for the company's fall offering including a Pulitzer Prize-winning American classic, a contemporary comedy and a World Premiere. Rounding out the 2016 mainstage season is Return to the Forbidden Planet by Bob Carlton, a campy send-up of the sci-fi film "Forbidden Planet." Set on a spaceship sometime in the future, the show features a galaxy of 1950's and 1960's rock-and-roll classics and a roller-skating Robby the Robot.
Subscriptions to Rubicon's 2016 Season include discounts of up to 15%, discounts for tickets purchased for friends, guaranteed seating, ticket insurance, free exchanges (with 72 hours' notice), and advance notice of special events. Single tickets for each of the shows are also on sale and available via the box office at 1006 E. Main Street (Laurel entrance) or by phone 667-2900 or online: www.rubicontheatre.org.