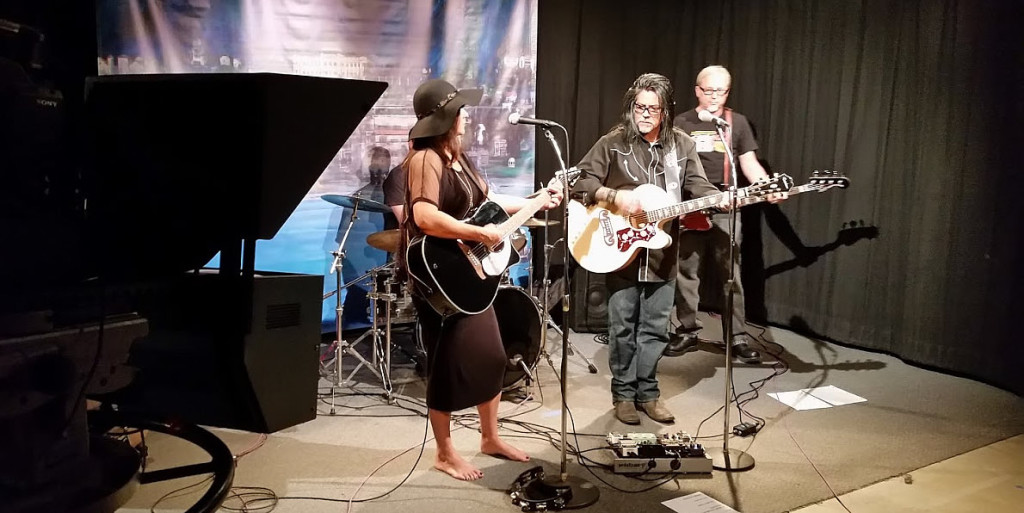 TBA
By Pam Baumgardner
VenturaRocks.com
Though the evening isn't really about the music (hint: it's about the wine), the Ventura Winter Wine Walk was a huge success with live music at the corner of Main and California.  There's nothing quite like families coming out on a gorgeous December evening with men on stilts, women hula hoop dancing, snow falling while dancing to popular R&B and funk tunes from the Bomb on a huge stage, with professional lighting while City Hall is lit up in the background.  Along with the tree lighting ceremony, and the Ventura Harbor Parade of Lights, this has become my favorite holiday tradition.
Speaking of which, the Ventura Harbor Parade of Lights runs December 18 and 19. I hear you can get a pair of 3D glasses to watch the fireworks display while supplies last at Coastal Cone Ice Cream parlor.  I'm not sure how the glasses will enhance fireworks as they're already 3D, but I'm sure they'll be in high demand. The two-day celebration includes music, a carnival with rides on the main lawn, fireworks, and decorated boats with this year's theme, "Surf, Sand & Santa Celebrating 150 Years of Ventura."  Be sure to be on the watch for Santa making an earlier flyby during the evening.
RJ Mischo & the Down Home trio have begun a Tuesday night residency this month at the 805 Bar and Grill Cheese.  I'm hearing the Copa Cubana (next to the 805 Bar) is getting close to opening soon.
The Watermark will host The Pullmen's "Going Dark" vinyl release Xmas party on Friday, December 18. The event will be held on the ground floor as upstairs will be closed for a private party that evening.
It promises to be yet another "one of those evenings" at Squashed Grapes on Saturday, December 19th when The Frank Potenza Trio will be in the house.  The trio features Potenza (Joe Pass, Dizzy Gillespie, George Van Eps and more), who is a professor of jazz guitar at USC Thorton School of Music; Jim Hughart (Ella Fitzgerald, Joe Pass and Tom Waits, Sinatra and more); and Colin Bailey.  I love that Bailey was the drummer on the Charlie Brown Christmas special, in fact, he's done over 100 jazz albums, T.V. shows and toured with Benny Goodman and Joe Pass.  Earlier the same day, Bailey will be holding a drum clinic across the street at Pulse Drumming.  Get tickets and/or sign up for the clinic at Pulsedrumming.com.
We're working on post production of the debut episode of Ventura Rocks music show on CAPS Media featuring Medicine Hat. CAPS, Community Access Partners of San Buenaventura is a private non-profit television channel available through Time Warner and Charter. Check in with VenturaRocks.com for updates on when the program will air this month.
Do you have any music related news or upcoming shows you want help publicizing?  Send all information short or long to  [email protected], and for updated music listings daily, go to www.VenturaRocks.com.