A Christmas Carol at the Rubicon
by James Spencer and Shirley Lorraine
Over the years many versions of A Christmas Carol by Charles Dickens have been created for stage, screen, TV and radio.
This holiday season Ventura's Rubicon Theatre Company is presenting a new adaption of the classic story that has been penned by Karyl Lynn Burns, the Rubicon's multi-faceted Producing Artistic Director. It is at once brilliant, vibrant, insightful and unique.
It sticks to and includes more of Dickens' original text than other scripts. There are scenes and interactions extracted directly from the book that we've not seen in other productions. As a result, the tale is richer with more texture.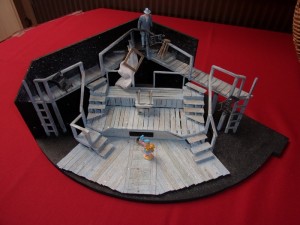 Dickens used an unidentified storyteller to present the story. Burns has elected to have Jacob Marley as the principal narrator throughout. But then, in addition to voicing each individual's dialogue as it appears in the book, Burns also has the actors narrate their characters' nonverbal actions for the audience using Dickens original descriptions. This fresh technique makes the characters, the story and the entire experience more personal and moving.
The best of scripts still needs to be creatively translated into a reality on stage. Multiple award winning director Brian McDonald successfully pilots this debut production with innovative subtleties, creative staging, directorial nuances and the skillful use of many talents. The musical touches are well placed, adding considerably to the atmosphere. Of particular note is the use of hand bells near the final scene.
McDonald has also incorporated some unexpected and seemingly ad-libbed audience interactions along with many broadly humorous touches. The seamless movement of the large cast over the bare, multi-level set is exceptionally smooth, with all levels of the structure and companion lighting well used to heighten the many dramatic moments. Special effects are used sparingly and to maximum advantage.
As one of California's premier professional theaters the Rubicon brings regularly attracts the highest quality talent. This show's giant cast of 24 includes stars of Broadway and television, as well as local artists. All the cast members appear to be thoroughly enjoying bringing the classic story to light with a new perspective. Headed by Peter Van Norden as the irascible Scrooge and Joe Spano as the long-dead Jacob Marley, the result is an ensemble piece where all shine brightly with outstanding performances that are delightful and often mesmerizing.
This time of year there will be numerous versions of A Christmas Carol on stages throughout Ventura County. The performances and overall dynamic freshness of the Rubicon's show will renew your appreciation for the depth and power of this holiday tale. We are confident you will also find it to be a Triple-A production – amazing, astounding and awe inspiring.
A Christmas Carol continues until December 20, 2015.  Show times: Wednesdays – 2 & 7 p.m. (Talkbacks follow 7 p.m. performances); Thursdays & Fridays – 8 p.m.; Saturdays – 2 & 8 p.m.; Sundays – 2 p.m.  Rubicon Theatre Company, 1006 E. Main Street, Ventura, CA, 93001.  Tickets – $54.00 – $64.00.  Ticketing and seat selection available 24/7 at www.rubicon.theatre.org. (805) 667-2900.