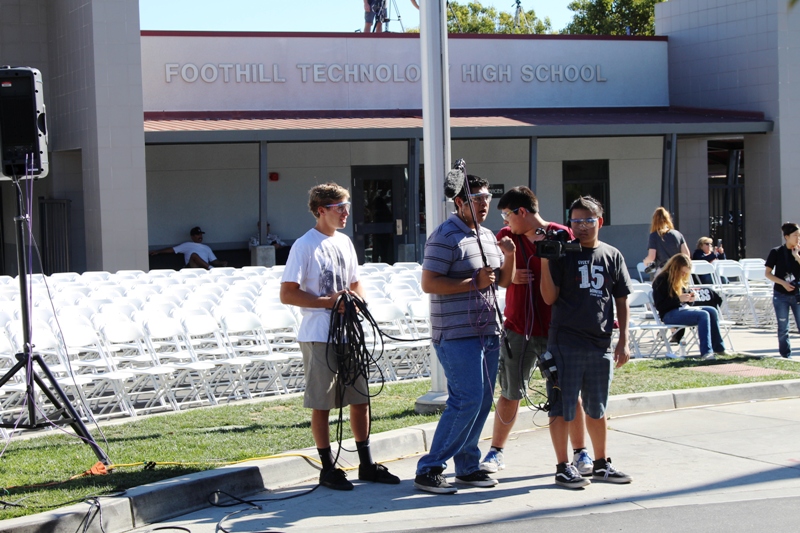 CAPS Chat – In your community
By Elizabeth Rodeno
Things are busy at City Hall. Part of CAPS' mission is to bring local government to the citizens and provide a place for them to share their views and stories. Do you have something to say? Our members do. Whether it be an announcement of an upcoming event or program, a historical piece about a World War II veteran or a profile on an environmental issue close to a producer's heart; CAPS provides the venue.  Our El Camino interns certainly have a lot to share.  ECTV, El Camino Television News' staff is covering insightful topics. This month features local artists; Woodworker David Seidler, Filmmaker Brandon Elliot and M.B. Hanrahan.
We had the opportunity to watch the Ventura County CERT training graduation and learn a little bit about the program. Following a major disaster, in addition to our police, fire and public works first responders, it's often necessary to have a group of citizens trained to help. The Community Emergency Response Team is a program that focuses on preparedness. CERT program efforts are coordinated through local emergency services personnel. Team coordinators are in charge of recruitment, training, and scheduling as well as mobilization and staging decisions. These are committed volunteers. It is a great relief to know there are trained citizens right in your own neighborhood.
Ventura Rocks @ CAPS is bringing in-studio performances by our great local bands to our community. Hosted by Ventura's queen of rock Pam Baumgardner (Ventura Breeze music columnist), the show will focus on our local artists. With great music, band trivia and a look at what's up and coming is on channel 6. We will keep you posted on dates and times.
Business of the Month, sponsored by the Ventura Chamber and the City of Ventura feature a new business of the month. CAPS is thrilled to highlight the story of the businesses and share it with you. We have met and learned a lot about the City Center, Main Street Meats and Mortgage Couch. There will be more to come. You can find the videos on our Vimeo page under Business of the Month.
Our Mayor for a Moment project has been rewarding. The city and the school district select an exceptional student to bang the gavel, CAPS provides a little insight into the student selected and hear from their teachers and principals about this exceptional kid.
Don't forget that not only is CAPS Media capturing important events in Ventura, you, as a member, can do the same. CAPS Media is here to create an engaged and informed community through participation in electronic media. A yearly membership is only $25 and includes training, equipment, and use of our studio and edit suites. Share your history with over 20,000 Ventura residents on channel 6 and 15. For more information go to www.CAPSTV.org or stop by CAPS Media Center on 65 Day Road and schedule a tour.