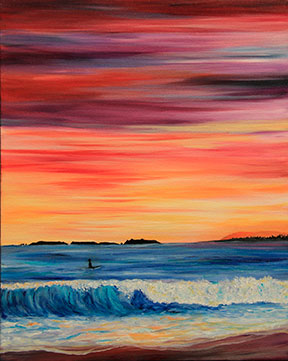 Join for a fun adventure in painting with Red Brick Gallery's Painting Parties. You will learn the techniques to paint your own acrylic painting, you can choose your own colors and add your own flair to your painting.  Everyone starts with the same theme, but everyone's piece will turn out different, you really have a chance to make it your own!  All Supplies are Included. No previous experience necessary-
On Friday, Dec. 18, 6-8:30pm capture the beauty of our local coast as you learn to paint a colorful Golden Sunset with an island silhouettes, a sandy beach, rolling wave and vibrant sky. This fun paint party will teach you a variety of fun techniques and create your own local scene. Choose to add a surfer silhouette or just enjoy the beauty of nature.
New location 4601 Telephone Rd Suite 112 (corner of Telephone and Market St) Reservations at 643-6400.