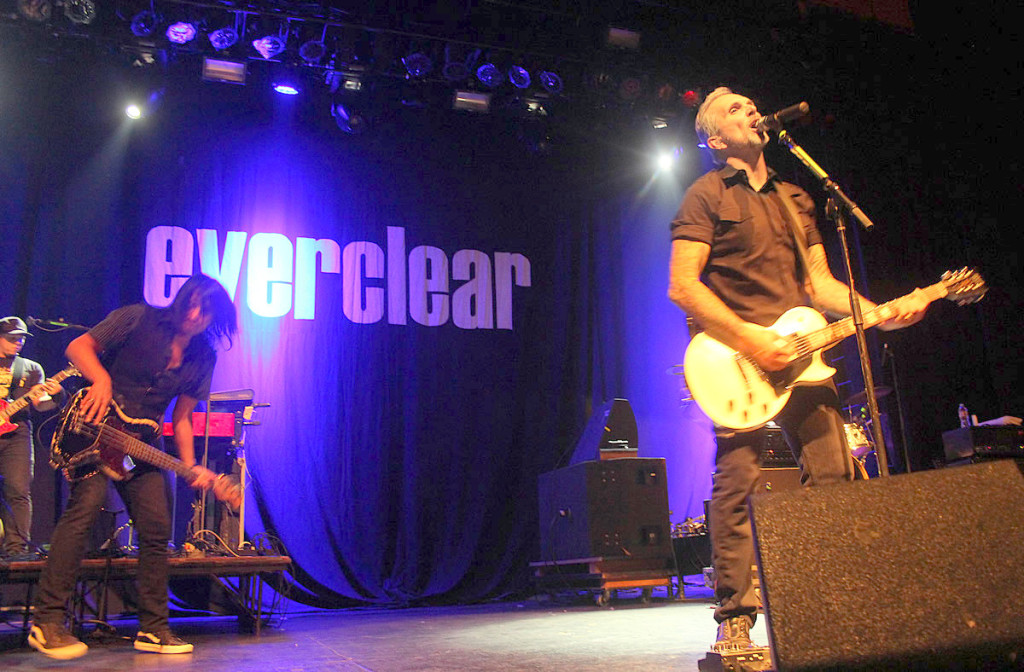 The holidays are officially here
By Pam Baumgardner
VenturaRocks.com
Everclear's 20th anniversary tour featuring their release, "Sparkle and Fade" was well received Sunday, November 22 at the Ventura Theater; but with that being said, the crowd was extremely happy to hear other tunes as well from the band including the final songs of the night, "Father of Mine" and "Santa Monica."
Well, it's time to confront the fact that the holidays are officially here. Bombay's will be inspiring people to get out the night before Thanksgiving by providing two stages of music: up front it's Tommy Marsh and the Session with a four hour blues jam being billed as biggest night in their four year history, and in the back room it's Shaky Feelin' and Nine Mile Skid.
As for the night after you've spent time with the family, you can work out the pent up frustrations at Sans Souci where you can find one hell of a punk show with F.S.K.D, Filios, We are the Underclass and Malice Thoughts.  But on the off chance you're looking for something a little tamer (and perhaps you enjoyed the time with family) you might want to check out the Jim Hendrix Birthday tribute at Squashed Grapes.
If you're looking to get into the Christmas spirit, then there's nothing like a Toy Drive for underprivileged kids coupled with an evening of great Blues to do the trick. The 15th annual 4 Kids 2 Kids Toy Drive will be held Sunday, December 6 at the Ventura Beach Club. $15 and an unwrapped toy gets you Deb Ryder, Kelly Zirbes, Donna Greene, Shari Puorto, and tons of other artists including honorary guest Nick St. Nicolas (Steppenwolf).
There are two workshops worth mentioning for local musicians as they are most likely to sell out and both are being held at the Pierpont Inn in January.  The first is "Down to the Crossroads" five-day Blues guitar and bass retreat January 19-23 (www.Down2TheCrossroads.com) and then it's Jon Gindick's Blues Harmonica Jam Camp which runs January 26 – 30 (www.BluesHarmonicaJamCamp.com).  You can step up your game and move up to the next level with intensive instruction in an inspiring environment!
Don't forget, it's a once-in-a-lifetime chance to catch Kinky Friedman and his unique brand of storytelling in an intimate setting at the Livery (Ventura Improv Theater) on December 4.  He'll be sharing songs from his latest CD, "The Loneliest Man I Ever Met." Ticket information at www.OnesToWatchProductions.com.
And finally, one of my favorite events of the year, the Winter Wine Walk will once again shut down Main Street Downtown Ventura for what is touted as the World's Largest Wine Walk.  Musical entertainment by The Road Brothers, SayReal, Paradium and the Bomb. Ticket information can be found at www.VenturaWinterWineWalk.com
Do you have any music related news or upcoming shows you want help publicizing?  Send all information short or long to  [email protected], and for updated music listings daily, go to www.VenturaRocks.com.