•  The Ventura County Animal Services (VCAS) has received the largest donation in its history. The Hahn-Block Family Foundation visited the Camarillo Adoption Center on July 9, After seeing the necessary use of temporary caging for dogs due to over-crowding, and seeing the number of dogs in the "holding room," they generously offered $100,000 towards a matching fund donation campaign. Animal Services plans to create a more suitable habitat environment for small dogs; removing cages and kennels altogether and creating more space to house the animals.
Ventura County Animal Services (VCAS) will use any additional funding on their new Pet Retention program. This program is designed to help keep pets with their owners by assisting with medical bills and pet deposits, rather than family pets being surrendered to Animal Services. Funds will also support spay/neuter funding for community members who cannot afford the procedure.
"We are extremely grateful to the Hahn-Block Foundation for choosing to invest in the future of displaced pets in our community and struggling pet owners. It is because of generous people and organizations like Hahn-Block that we are able to provide extended care to these pets. These funds will help in much needed areas to ensure our community remains no-kill", said Tara Diller, Director of Ventura County Animal Services.
•  Some questions that I needed answered by Dr. Jennifer Kelly, DVM veterinarian at Ohana Pet Hospital in Ventura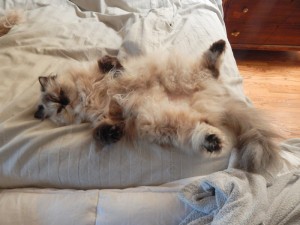 Q   Savana hates getting her nails trimmed and always makes fuss.  Any tips to help with this problem?
A   She should definitely start trimming early because if cats get used to it at a young age they won't mind it as much.  Also the more frequently it's done the less scared your friend will be.  Most importantly, all humans should know their cats' anatomy so they are cutting the nails properly.  At the center of each toenail is something called the quick where the blood and nerve supply are.  Cutting into the quick will cause pain and bleeding so that should absolutely be avoided.  If it is done properly, your friend has nothing to worry about.
Q   How do my buddies know when to take dogs or cats in for urgent care?
A    If your pet's behavior changes suddenly it's always a good idea to bring them to the vet, however, there are some symptoms we typically look for which may indicate something serious or even life threatening. Labored breathing, pale gums, or a pet that is straining to urinate are all symptoms that require immediate medical attention. A lethargic pet who does not want to do anything is also cause for concern. Vomiting, diarrhea or bloody stools are other serious symptoms to be aware of. Also, if a pet has not eaten or had anything to drink for more than a day, this could be an indication of something serious and they may be at risk for dehydration. Remember, you know your pet and if something seems off to you, it's always better to err on the side of caution and have them seen.
---
•  Paw's Corner
By Sam Mazzotta
Camping With Your Dog
Sam: We've been invited on a camping trip with several other families. We don't have kids, but our dogs "Sarah" and "Jake" are like kids to us. Is it okay to bring them along? — Frank J.
Dear Frank: There are three questions you must ask in order to determine whether you can bring along Sarah and Jake: 1. Does the campsite allow pets? 2. Are the other families OK with you bringing pets? 3. Are Sarah and Jake well-socialized to children and to other pets? While many state and federal parks allow pets at campsites, others don't. Some have specific restrictions, such as, pets are allowed at campsites but not in certain areas of the park where there's an ecological risk. Check the campsite or park's website for specific rules about pets. Also, check the park's safety advisories: Are you camping in bear country, or are other hazards present? Second, since it's your first time camping with this group, ask the other campers if they are comfortable with pets coming along. It's up to you to make sure they are well-behaved and will swiftly obey your commands when off-leash.  If everything checks out, then start planning. Make sure Sarah and Jake have their needs met — food, toys, leashes. Bring sweaters and booties just in case. Carry cleanup bags and a large trash bag for disposal at the campsite. At night they will need to be kept in the tent or in a portable kennel. Finally, make sure their heartworm and shots are up to date, and check them daily while camping for ticks, fleas, and burrs.  Send your questions or tips to [email protected].   (c) 2015 King Features Synd., Inc.
•  The Ventura County Board of Supervisors has approved new contracts for their animal control services in our local cities . The county has negotiated new contracts that they say more reflect the real cost of providing shelters and other animal services to the county cities . The county shelter is based at the Camarillo Airport with a small shelter In Simi valley .  Ventura's Amount has been slightly reduced from last year by about $3,000 while Oxnard's has been increased over $600,000.
•  It has been reported that pet ownership can have a beneficial effect on adolescents with type 1 diabetes, with younger children in particular having improved glycemic control after several months spent caring for a pet fish(or a dog I'm sure), according to research in The Diabetes Educator.
In a pilot program designed to test behavioral intervention in adolescents with type 1 diabetes, researchers found the structured care of a pet fish helped to improve HbA1c levels by providing activity-based cues to better perform diabetes self-care behaviors.
"Teenagers are one of the most difficult patient populations to treat, mainly because of the many psychosocial factors associated with that stage of life," Olga Gupta, MD, an assistant professor of pediatrics and internal medicine at the University of Texas Southwestern, said in a press release. "We learned that instructing families to associate regular pet fish care with the child's standard diabetes care significantly improved their HbA1c levels."
Gupta, Louise Maranda, PhD, of the department of quantitative health science at the University of Massachusetts Medical School in Worchester, and colleagues analyzed data from 28 adolescents aged 10 to 17 years from a pediatric diabetes clinic with type 1 diabetes and an HbA1c greater than 8.5%. Within the cohort, 16 children were randomly assigned to care for a pet fish for 3 months; 12 children were instructed to proceed with their usual diabetes self-care routine. Researchers chose a fish to minimize the burden of cost and pet care placed on families who agreed to participate in the study.
Researchers gave participants in the pet care arm a fish bowl and equipment, a $5 gift card to purchase a fish (Betta splendens), instructions for caring for a fish and recommendations to set up their fish bowl in their rooms if possible. Researchers instructed participants in the pet care arm to check their blood glucose readings when feeding the fish twice daily — after waking and before bedtime. Researchers instructed participants to review their glucose logs with their caregiver weekly while changing one-quarter of the water in the fish bowl.
Researchers found that participants in the pet care group decreased their HbA1c level by 0.5% after 3 months compared with participants in the control group who saw a 0.8% increase in HbA1c (P = .04). Participants aged 10 to 13 years responded better, with a 1.5% HbA1c reduction compared with a 0.6% reduction among participants aged 14 to 17 years (P = .04).
"Associating diabetes self-care tasks with routine, consistent daily activities may be another tool in the diabetes educator toolbox that can be used to enhance compliance and ultimately improve glycemic control," the researchers wrote. "The identification of this successful behavioral intervention justifies conducting ongoing studies to validate these findings in a larger cohort for a longer follow-up period, pinpointing the mechanisms leading to the improvement, using different household pets and monitoring the changes in health service utilization." – by Regina Schaffer