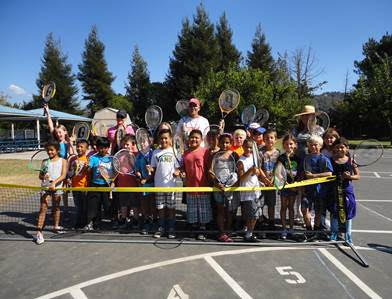 Students from Sunset School in grades 3rd through 5th participated in the Quick Start Tennis Program with Ojai Coach Philippe Gache. They learned the skills and rules necessary to play tennis and had a great time. The program is run by volunteers and the hope is to teach children a sport they might not have had access to that they can go and play with minimal resources on into adulthood.   Students will participate in a Ojai Valley Quick Start Tennis Tournament in December.
Villanova Preparatory School is celebrating the annual Wildcat Classic Golf Tournament and Oktoberfest Dinner at Soule Park in Ojai. The even will be at Soule Park Golf Course on Friday, October 30. Registration will be at 9:00 a.m., tee time at 11:00 a.m., and feast time at 4:00 p.m.
Come join over 100 players in the annual golf tournament with a foursome, support the event as a sponsor, or just come enjoy the Oktoberfest dinner and raffle. Families, friends, alumni, neighbors and public are all welcome! Call the school for information 646-1464 x127, or email mgere@villanovaprep.org.
This year, Villanova Preparatory School's goal is to raise over $22,000 to use towards athletics and scholarships. Like many educational establishments, the school relies on the generosity of businesses and individuals from the community to assist in providing a quality education for the students.
As a donor to the event, names and/or business will be proudly listed on the event promotion materials for a large number of attendees to see. Additionally, business information will be listed on the website which will showcase all of the donors.
Galerie102 is pleased to present "Genesis," a two-person show featuring paintings by Stella Maria Baer and sculpture by Elisa Berry Fonseca opening Saturday, November 7th with an Artist's Reception from 4-6 pm and on view through December 6.
"Genesis" brings together the work of two-long term friends and artistic collaborators, representing not only the trajectory of their friendship and artistic relationship, but also the subtlety and depth of their work that, when combined, creates a stunningly symbolic diorama of "the heavens and earth."
Both Baer and Fonseca hold Master of Arts in Religion degrees from Yale
Sunset 8th grade Jonny Sinklier wins Ventura Optimist Student of the Month award! The Sunset School 8th grader is an extraordinary young man who is diligent in his studies and excels in all academic areas, but is never boastful. He is creative, articulate and adds to every conversation in a productive way. He is a quiet leader amongst his peers, not the one to "demand things,"  but rather he leads by example. The Sunset School Annual Fiesta will be held on November 6th, from 4:00- 7:30 at Sunset School.  There will be free entertainment, including Bell Arts Ballet Folklorico, Mexican Trick Roping Charreria demonstration, Mariachi music, food, game booths, and fun for the whole family!
On Thursday, November 5, from 6 to 8 p.m., author and scholar Dr. Ward Parks will visit the Ojai Library to offer a presentation titled "Why Do We Suffer?"
The Ojai Valley Green Coalition will host the Focus Earth film "Racing to Zero, In Pursuit of Zero Waste" as part of the Ojai Film Festival Sunday, November 8 at the Ojai Art Center Theatre, 113 S. Montgomery St.
The film presents new solutions to the global problem of waste. By simply substituting the word resource for the word garbage, a culture can be transformed, and a new wealth of industries can emerge. "Racing to Zero" begins 3:00 p.m. followed by a panel discussion and mini-Expo in the gallery. Tickets are $12 and available through ojaifilmfestival.com. To learn more about the film and panelist visit ojaivalleygreencoalition.org.
The Ojai Valley Museum invites you to join them on Saturday, November 7 at 7pm for "Mystery in the Museum." Event attendees will go a treasure hunt for clues in the galleries, as well as puzzle over artifacts and a historic photograph. There will be prizes for the winners.  You will enjoy delicious food and drinks and bid on some amazing silent auction items. The fun fundraising event is graciously sponsored by Ojai Community Bank. Tickets are $50 per person. Support your local community museum and have fun at the same time.
To RSVP for Mystery at the Museum, or for more information, call the museum at 640-1390, ext. 201, e-mail ojaimuseum@gmail.com, or visit the museum website at OjaiValleyMuseum.org. The museum is located at 130 W. Ojai Ave.