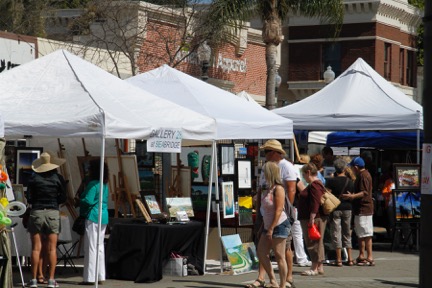 Paint Ventura's Holiday Art Festival Nov 21, from  10am-4pm at the Telemark Plaza on the corner of Market and Telephone.
Get a jump on your holiday shopping and select original art pieces make by local artists.
Spend the day enjoying local arts and craft vendors as you watch them create in their artisan booths at the Telemark Plaza on the corner of Telephone and Market in Ventura.  More than 100 fine artists and crafts persons display and sell their original work amid a street festival atmosphere filled with holiday flair and more. This is the first year of the holiday festival after 10 successful Spring events and we hope to make it the must see holiday event.
Coming from throughout the western portion of the country the Festival artists' original works cover the gamut of creative visual categories including painting, sculpture, photography, jewelry, ceramics, folk craft, glass, leather, metalwork, wearable art, woodwork, mixed media (2 and 3 dimensional).  Paint Ventura features only original work and our original artists are all present on-site to greet festival attendees.
Fun food trucks, holiday music and warm friends make this Saturday a fun day for everyone.
Watch as the artists create their work in their booths.  Artists will be working to create paintings from scratch throughout the day,  giving the public the opportunity to see who an artist bringing a blank canvas to life.
Bring your little ones and have them join in the fun and paint their own holiday card or ornament. Lots of fun patterns and ideas to start with.
Bring your new and used pet products (toys, beds, food and more) for our collection where you can help the dogs of CARL and CABOdogz.
Help build a can tree for FOOD Share.  Any and all cans are great, bring one by the booth and get a free gift as a thank you for helping reach the goal of 400+ cans.