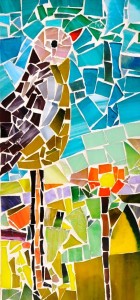 Focus on the Masters Volunteers present their annual Holiday Gift Shop located at the FOTM Archive & Library, 505 Poli Street, Suite 405 (right behind City Hall).  For four days only The Holiday Gift Shop will carry unique, hand-made and lovingly crafted gifts.  New this year is our Wine, Gifts and Wish Lists Happy Hour on Friday, November 20th from 5:00 – 7:00.  This is a great chance to wind down from the work week, meet with artists and friends, and shop for those special people on your list.
Shoppers can select from a variety of one-of-a-kind items including colorful quilts, dazzling jewelry, unique clothing, meticulously crafted wood pens, handmade paper lanterns, charming felted wool creatures, ceramics, photography and much more.  All items are produced by FOTM volunteers, staff, and outstanding Ventura County artists including Greta Lovina, Christine Beirne, Linda Carson, Alan Dante, Meg Easton, Cecile Faulconer, Aimee French, Mary Galbraith, Donna Granata, Maribel Hernandez, Judee Hauer, Mike Horwitz, Trisha Johnson, JoEllen Lee, Joyce Lombard, Deborah O'Brien, Michael Rohde, Gloria Rupio, Gayle Bentley Swanson, Genie Thomsen, Elaine Unzicker and more!
A portion of the proceeds benefits FOTM acclaimed Learning To See art education outreach programs.
To learn more about Focus on the Masters, visit www.FocusOnTheMasters.com or call 653.2501.