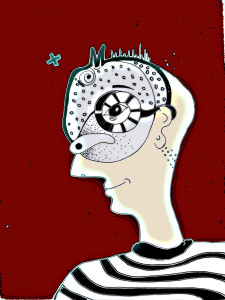 "Welcome Earthlings" (Solo Works – Mixed Media) by Jane Peterson is on display at galerie102 at 102 W. Matilija Street, Ojai from October 3- October 25.
Opening Reception with artist Saturday, October 3rd, 5 – 7pm
In artist Jane Peterson's all new work, and first solo show with the gallery, she continues to explore the spectrum of human emotion with particular attention to anxiety, passion, and fear, as well as, an element of humor.
Peterson earned her M.F.A. from The University of Iowa. She has had solo shows at TAG Gallery in Santa Monica, CA and has shown extensively in galleries in New York City, as well as Northern and Southern California.  Her work is in private collections in New York, NY, Honolulu, HI, Oakland and Davis, CA. She currently lives and works in Ventura.
Gallery hours are Thursday through Saturday from 11-4 pm, Sunday 12–4pm, and by appointment.