VIP reception sponsors Sandra and Jordan Laby.
Photos by Naancy Heydorn

Four Points by Sheraton was the scene on Friday, September 18 of Focus on the Masters' annual FUNdraising dinner presented by Cumulus Media.  The al fresco VIP pre-dinner reception was generously underwritten by Jordan and Sandra Laby, longtime supporters of FOTM.
The theme of this year's event was Through A Child's Eyes.  Aimee French, director of FOTM's highly-praised Learning To See program, led guests through a collage-creating experience based on Ventura Artist Hiroko Yoshimoto's Biodiversity series.  The same hands-on effort is one that Aimee takes to school children, using various scraps of fabric, paper, yarn, and wrapping paper affixed to masonite board with glue sticks and glue gun.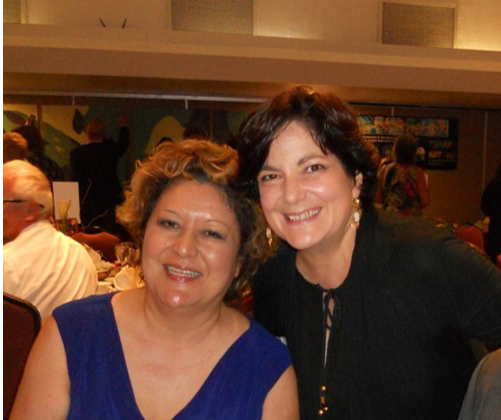 Chris Diaz of Union Bank with Focus on the Masters Founder & Executive Director Donna Granata.
Scott Miles, FOTM Board Member and Brooks Institute faculty member, and his wife noted weaver Regina Vorgang were the lucky winners of the evening's raffle:  a watercolor study made by Hiroko Yoshimoto for her Biodiversity Series.
Volunteers Kim Galbraith and Elisabeth Berg raised funds for arts education by selling mystery Celebration Bags.  Each bag sold for $20 but the contents were valued at much more!
Kim Maxwell of Ojai's Kim Maxwell Studio, was emcee for the evening, lending her special blend of enthusiasm as she led a "pledge auction" that raised money for Learning To See.
Rita Edmond, a jazz singer whose last CD reached the Top 50 on the Jazz Weekly Charts, created a festive atmosphere with her smooth, sultry voice.
The event was truly a Who's Who of the community's leading artists who were in attendance.
The evening was organized by FOTM staff, supporters and volunteers, including Chris Beirne, Cherie Brant, Meg Easton, Aimee French, Mary Galbraith, Nancy Heydorn, and Karen Hoffberg.
Focus on the Masters is a non-profit arts education organization and archive that documents and celebrates the lives and works of artists in our community.  The FOTM archive contains information on over 2000 artists and arts organizations.
For additional information about Focus on the Masters, please go to www.FocusOnTheMasters.com.