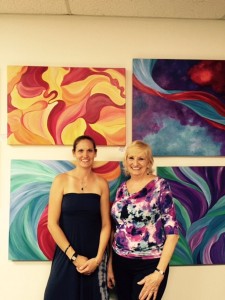 Mother and daughter Jen Livia and Phyllis Gubins  promise more "art from the heart" in their new location.
By Mira Reverente
Like any proud mother, Phyllis Gubins talks about her daughter's work with obvious pride and affection. "Jen exhibited an obvious talent in art even as a young kid," says Gubins, who co-owns Red Brick Gallery with daughter Jen Livia.
"I didn't get into watercolor painting until later in life, and only upon Jen's encouragement," says Gubins who has a real estate and finance background. "She was the one with the talent and I just encouraged her and helped nurture that gift."
Livia's early love affair with art began with the camera, which propelled her to earn a degree in photography from UC San Diego. Spreading her wings further, she headed to the San Francisco Art Institute to complete her Masters in Studio and Media Arts.
In 2006, Livia and Gubins opened Red Brick Gallery along Main Street. "We wanted a place where we could showcase our work, other artists' work and at the same time, be able to teach various classes," says Livia.
Gubins is at the helm of the watercolor classes, while Livia mainly teaches acrylic, photography and Photoshop classes. Says Gubins, "We realized we both really love teaching so that's one of our main focus now in this new space – teaching both beginner and advanced classes in various media."
By "new space," Gubins is referring to the gallery's new location at the corner of Telephone Road and Market Street. The doors formally opened on August 22 with a simple reception and preview of some existing art by Gubins, Livia and local artists and artisans.
Among the artwork on exhibit are some from Marco Aguilar's collection. Lancaster-based but Belize-born, the amiable and self-taught acrylic artist is known for the dreamlike quality of his work, inspired by the Hudson River School artists, among others.
"I have heard some people say they can identify my work instantly – the play of light and shadow, the water and glass, the seascapes and landscapes," says Aguilar who currently teaches a class at the gallery once a month.
"Expect to learn a variety of techniques – some drama and some realism approach," he says. "It's fast-paced and perfect for adults."
Meantime, mother and daughter are eagerly anticipating a packed calendar with new classes, new artists and new original artworks. After beefing up her cosmic painting and treescape collection, Livia has spent recent weeks dabbling in food – painting mouth-watering cupcakes and doughnuts, but not actually devouring them. Gubins has found her niche too, painting animals and sea creatures.
Do animals actually sit still long enough for her to paint them? "I wish," says Gubins, who finds inspiration from photographs of animals, of various shapes, sizes and color. "Jen and I are both animal lovers. She has dogs and I have cats."
In the near future, Livia envisions adding more classes, particularly clay and other media. She wants to discover more emerging artists and give them a local venue for their work.
"We just want to keep teaching art from the heart," says Gubins. Livia chimes in, "Everyone can be taught. Everyone has some form of creativity in them. It just has to be drawn out."
For more info, go to www.redbrickart.com
,