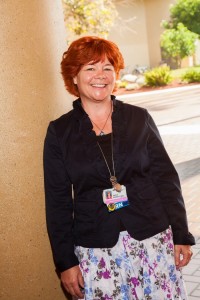 CMH's Sheila Dedrick recognized by the Breastfeeding Coalition of VenturaCounty
Community Memorial Hospital's new Parent Resource Center Coordinator Sheila Dedrick has been recognized as a professional in the community working to support breastfeeding families by the Breastfeeding Coalition of Ventura County.
The BCVC honored Dedrick with its 2015 Liquid Gold Award during an award ceremony held at the Ventura County Board of Supervisors meeting on July 28. The award was conceptualized in 2014 and presented to Dr. Abhay Vaidya of West Coast Ear, Nose and Throat. The Liquid Gold Award is an annual recognition by the Breastfeeding Coalition of Ventura County to an individual who has made a difference in the lives of families and our community by supporting breastfeeding through resources, education, services and networking.
"We are extremely proud of Sheila for this achievement, hard work, dedication in serving the needs of our patients," said Megan Meeker, Director of Maternal Child Health.
Dedrick brings a wealth of knowledge to her role and a warm, caring compassion and dedication.  She helps hundreds of new moms and babies each year discover the joy of breastfeeding. She has championed the evolution of lactation care at CMH and has supported and mentored countless nurses in their pursuit of lactation certification. Dedrick provided leadership and expertise to the Breastfeeding Coalition of Ventura County from 2006-2014. Sheila is a champion and advocate for breastfeeding and works tirelessly to envision the goal of "Every Baby Breastfed."
For more information about the New Parent Resource Center at Community Memorial Hospital visit www.cmhshealth.org/mch.