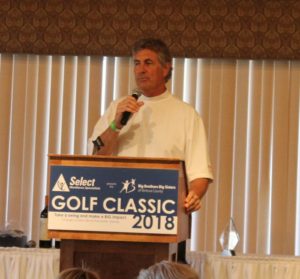 On Monday, May 7, the Big Brothers Big Sisters of Ventura County presented their annual fund-raiser golf classic. The event was held at the Saticoy Country Club and featured a sit down dinner, golf, auctions and former LA Rams quarterback Vince Ferragamo as the event's celebrated host and keynote speaker. By grossing over $250,000 it delivers the resources necessary to support 1,500 youth who are facing adversity in Ventura County.
Said Ferragamo, "The day was beautiful, the course played great. We played as if we were the only group on the course despite us having a field full of golfers; the volunteers and staff were very hospitable. It was fun, and we raised a lot of money."
Big Brother Aaron Kirby and Little Brother Elijah were recognized as Big & Little Match of the Year, and were celebrated throughout the day. Representing the Breeze at the event were publisher Brown and Senior Account Executive Breezy Gledhill.