Breeze staffer John Murchison, Front of House Engineer. The front of house engineer focuses on mixing audio.
by John Murchison
The Skull and Roses Festival Produced by Deluxe with DJE Sound and Lighting, at the Ventura Raceway was attended by thousands who were able to camp and enjoy the music as they did when the Grateful Dead used to play here years ago in the 1980's.
The Main Stage included a backdrop of legendary sorts, a recreation of the Grateful Dead's "Wall of Sound" a legendary Sound system created by Owsley Stanley the Dead's first sound engineer. Steve Parish part of the original Grateful Dead crew was present to give the replica versions of the Wall of Sound Speakers their correct placement. As well as telling many stories about touring with the iconic band. The arena offered 2 stages of music continuously with a rotating stage schedule, when one band was done the other stage would start.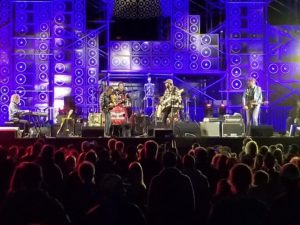 I had the pleasure of seeing my first Grateful Dead show in 1974 at Roosevelt Stadium in New Jersey with that very system. The second stage was a dedication to Ron McKernan the former leader, keyboardist, and singer in the 60's when the band first started.
The Festival was a Grateful Dead Music Oriented Festival with 20 different Grateful Dead Music Tribute Bands including multiple genres of the same music. for example "The Grateful Bluegrass Boy's", played bluegrass inspired versions of Grateful Dead Classics, "Punk is Dead", another band played that genre of Grateful Dead Music, Ventura's Own 9 Mile Skid, name inspired by a lyric from the song He's Gone.
LA's Grateful Dead Tribute Headlined Friday night playing two sets of Grateful Dead Music, which I had the pleasure of mixing. The Festival was met with many a sing along and proved that the Grateful Dead still have a solid following and continue to live on in the live music scene.